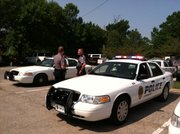 The eight new patrol cars joining the Lawrence Police Department's fleet this year will have a new look.
The insignia on the side of the vehicles will now include a gold badge that replaces the logo that depicts a phoenix, and "Police" is in a new font on the side covering two doors instead of one.
"The new graphics are brought about totally by officers," said public affairs Sgt. Matt Sarna. "They thought it might be nice to have a change from what we've had and get updated into the kind of current police cars people are driving now."
Sarna said several patrol officers cooperated with Chief Tarik Khatib over four months on the design by Marilyn Vanderweide, a senior graphics specialist at Luminous Neon Art and Sign Systems of Lawrence.
As part of this year's budget, the department was authorized to replace eight patrol vehicles with new ones. Khatib said the cars cost about $21,000 apiece and about the same amount to equip them.
The older cars in the patrol fleet won't get the new insignia until they are replaced with new cars in the future, so it will take several years to completely switch to the new design, Sarna said. Ford Motor Company is also phasing out production of the Crown Victoria as a police cruiser, so the department is still examining options for other future vehicle purchases, he said.
Also part of the new design, 911 moved from the back of the patrol vehicle to the rear fender on each side, and the department's website, lawrenceks.org/police, is now listed on the back bumper.
Sarna said the gold badge on the side of the vehicle will make it easier for the public to recognize the car as a police vehicle compared with other city vehicles.
Copyright 2018 The Lawrence Journal-World. All rights reserved. This material may not be published, broadcast, rewritten or redistributed. We strive to uphold our values for every story published.