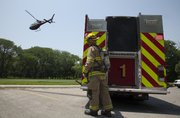 A toddler who was injured after a fall Tuesday afternoon at the East Lawrence Recreation Center was flown to Children's Mercy Hospital in Kansas City, Mo., an emergency dispatcher and the center's supervisor said.
The call was initially reported at 12:30 p.m. at the recreation center, 1245 East 15th St. A helicopter ambulance transported the boy from the area around 1 p.m.
The boy was transported with nonlife-threatening injuries, said Lyle Schwartz, division chief for Lawrence-Douglas County Fire Medical.
"He wasn't in critical condition," Schwartz said.
Ross Schraeder, the recreation center's supervisor, said the 2-year-old boy fell in the center's lobby just outside the doors to the gym. Schraeder said that the boy was there with his mother and that center staff members called an ambulance.
"He was alert and breathing from what I saw," Schraeder said.
Copyright 2018 The Lawrence Journal-World. All rights reserved. This material may not be published, broadcast, rewritten or redistributed. We strive to uphold our values for every story published.