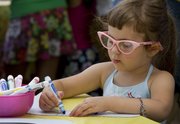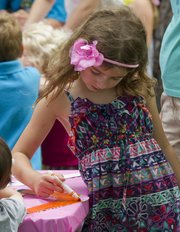 Lawrence Public Library kicked off its One World, Many Stories summer reading program Saturday morning with free pancakes and arts and crafts.
Dozens of Lawrence families attended the event at the library, 707 Vt., from 10 a.m. to noon. Along with the free breakfast, children made their own maracas and boomerangs. And the library hoped they'd pick up their summer reading packet as well.
"It's all in getting the kids ready and inspired to do their summer reading," said Rebecca Dunn, youth services library assistant.
The program runs through Aug. 22.
Participants choose 12 books to read and are awarded a certificate upon completion of the program. They also receive other perks, such as a free book and a trip to the city swimming pool.
Organizers hope to increase participation by 1,000 readers this summer. Last year, 3,500 participated.
Copyright 2018 The Lawrence Journal-World. All rights reserved. This material may not be published, broadcast, rewritten or redistributed. We strive to uphold our values for every story published.