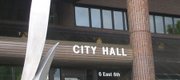 Subscribe to the email edition of Town Talk and we'll deliver you the latest city news and notes every weekday at noon.
News and notes from around town:
• The idea of bringing a Lowe's Home Improvement Center to Lawrence may not be dead yet. As we reported last month, local architect Paul Werner was making a pitch to Lowe's to look at the vacant property just west of Walmart on Sixth Street. Well, it looks like Lowe's has some interest in the site. A concept plan has been presented to city officials that shows how a Lowe's store could fit on the property west of Walmart. Sources tell me that the concept plan is a precursor to a formal rezoning request and development plan from Lowe's in the near future. Werner wouldn't confirm whether he's in the process of filing a formal development plan for a Lowe's project. Anything can happen with a deal like this, but if I were a betting man, I know which way I would bet.
The question soon will become whether city commissioners like the west of Walmart site any better than they liked Lowe's previous proposal to build a store near Sixth and Folks Road in the area near Free State High. The west of Walmart site isn't currently zoned for retail uses. It had been envisioned first for apartments and then retirement living, but that project hit financial difficulties. The land ultimately ended up in the hands of an area bank, which perhaps has made the site more economically attractive to Lowe's. Plus, Lowe's has made a switch in the executive responsible for evaluating any Lawrence deal.
It will be interesting to see how much opposition neighbors may mount to the store. Will there be arguments about traffic and more retail being built in the area than originally envisioned? I'll also be watching to see if Lowe's asks for any incentives, like a special taxing district, which was part of its proposal at Bauer Farms. I would be surprised if it includes such a request. Special taxing districts are going to be a very tough sale at City Hall for awhile. There are two new faces — Hugh Carter and Bob Schumm — on the commission now that weren't on it when Lowe's was previously denied. It should be worth watching.
• Occasionally, I tweet. (That sounds like something I should say to a therapist. Or at least a doctor.) Today will be such a day as I expect news this morning about whether the South Lawrence Trafficway will be on the list of projects that will be funded through the state's comprehensive transportation program. Funding is needed to complete the bypass project, which currently travels from I-70 west of Lawrence to U.S. Highway 59 south of Lawrence. The final leg of the trafficway would travel from Highway 59 to Kansas Highway 10 east of Lawrence. Funding for the project won't guarantee its completion. As surely everyone knows, the proposed route for the SLT goes through the Baker Wetlands, which means this project is destined to go through federal court. In November, U.S. District Court Judge Kathryn Vratil gave the project a legal victory by ruling the proposed route for the road had gone through the proper federal review process. But that ruling has been appealed by local environmentalists and American Indian groups who are opposed to the route through the wetlands. That case still has a ways to go before it is resolved. The state and the feds are expected to file their key briefs in the case later this month.
I expect some news around 10 a.m. I will tweet it @clawhorn_ljw.
UPDATE: KDOT has committed $192 million to complete the SLT.
• Speaking of wetlands, the City Commission is set to approve a document that would get the ball rolling on creating new regulations for wetlands and other environmental features throughout the county. At their Tuesday evening meeting, commissioners will consider approving the Environmental Chapter of Horizon 2020. It doesn't sound like interesting reading, but it certainly has gotten the attention of many in the development and agricultural communities. The Lawrence Chamber of Commerce and the Lawrence Board of Realtors both have come out against the chapter as it is currently written. A large reason why is because they believe it will create a sea of new regulations that haven't been well thought out. According to the city-county planning department, the chapter will required the creation of 35 entirely new code regulations, plus it will require another 89 existing regulations to be added to. Some of the new regulations would include: setback rules for developments near streams; local wetland protection codes; local woodland and urban forest protections; local natural habitat protections; local programs to protect high quality agricultural land; and a local policy to reduce mercury emissions. There are also several references to how the city and county should encourage less automobile usage, more alternative energy and a greater reliance on locally grown food.
Of course, there are multiple supporters of the plan. But the amount of division it has created is noteworthy. Nowhere is that division more evident than on the Douglas County Commission. County commissioners approved the chapter on a 2-1 vote in April. County Commissioner Jim Flory was the lone vote against it. But he hasn't let his opposition stop with his vote. He took the unusual step of writing a strongly worded letter to city commissioners that basically spelled out why he believes his fellow commissioners erred in approving the document.
Flory had urged that the chapter be deferred and sent back to the Lawrence-Douglas County Planning Commission to answer several questions raised by the public. Flory writes that he was "both shocked and frustrated" that his fellow commissioners refused to do so. He goes on: "In my view, Chapter 16 represents a major policy statement and constitutes a vehicle for extensive regulation of private property worthy of a thorough discussion by the governing bodies. A review of the BOCC minutes will reveal a number of question and suggestions that were virtually ignored in the inexplicably expeditious handling of the matter."
I get the sense that the debate on this chapter is going read a lot like a Tolstoy chapter: long.
Copyright 2018 The Lawrence Journal-World. All rights reserved. This material may not be published, broadcast, rewritten or redistributed. We strive to uphold our values for every story published.