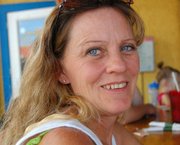 Jeff Burnett was just leaving Lawrence around noon Tuesday with his wife, Cindy, heading to Topeka on the South Lawrence Trafficway near Clinton Parkway.
Then, in a split second, a piece of metal pierced a hole in their vehicle's windshield and struck Cindy, who was sitting in the passenger's seat.
"It was a thing that shouldn't happen," Jeff Burnett said Wednesday afternoon. "It happened so fast."
The 48-year-old Lyndon woman died a short time later from her injuries at Lawrence Memorial Hospital, and Douglas County Sheriff's officials publicly identified her as the victim Wednesday.
"It was a freak accident — a one-in-a-million shot," Burnett said tearfully. "It just happened to be us."
Undersheriff Steve Hornberger said officers were still looking Wednesday for the driver of the oncoming eastbound vehicle because they believed the errant piece of metal possibly flew off from a trailer it was hauling.
The accident occurred at 12:15 p.m. Tuesday, and Hornberger again Wednesday said it was possible the driver of the southbound pickup truck had no idea the metal object had fallen.
"We're actively investigating this extreme tragedy," Hornberger said.
The eastbound vehicle was described as a dark-colored pickup truck hauling a trailer with heavy equipment, possibly an old tractor.
Hornberger said deputies were following several leads because officers had received several calls about people who were in the area or who might have information.
Anyone with information is asked to call the sheriff's office at 785-843-0250, 785-841-0007 or Douglas County Crime Stoppers at 785-843-TIPS.
Jeff Burnett said he hoped the driver of the other vehicle would come forward soon for closure, but he said he wasn't blaming anyone for the accident.
"I'd like to just know and tell them they didn't do it on purpose," he said.
The family was struggling with the sudden tragedy and trying to make arrangements for services, Burnett said.
He and his wife had been married for 21 years. The Burnetts had two children together, and she had two children from a previous marriage.
They had subcontracted cleaning jobs for the U.S. Army Corps of Engineers at Melvern Lake in Osage County for several years. She grew up in Topeka, Burnett said.
A memorial service is planned for 2 p.m. Friday at Outlet Park at Melvern Lake.
"She cared more about people than herself," Burnett said. "And I'm sure that she would be glad that it was her instead of someone else.
"She would gladly have taken somebody's place. She was just that kind of person."
Copyright 2018 The Lawrence Journal-World. All rights reserved. This material may not be published, broadcast, rewritten or redistributed. We strive to uphold our values for every story published.