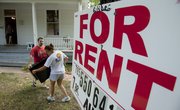 The unmistakable stench of garbage fills the air as three sanitation workers toss furniture, empty boxes and bursting-full trash bags — wreckage from an entire block's move out — from an alley Dumpster into a garbage truck between Tennessee and Kentucky streets.
One worker makes a surprise discovery: a black iPod inside a discarded computer case. He places the day's bonus inside his pocket and continues the cleanup.
The sheer volume of trash, valuable or not, is evidence of the annual expiration of leases and required extra man hours from the city's Solid Waste division.
Michelle Gundy, field supervisor, said workers cleared the entire Oread neighborhood and all the apartment complexes on Friday. She said the department anticipated the need for only one extra truck and did not expect Dumpsters to fill up again Saturday. Gundy normally works in the realm of recycling and said she hated to see all the usable furniture go to waste.
"Thrift stores you can take stuff to," she said. "The Habitat for Humanity ReStore takes a lot of building material and even furniture."

Mattresses, speakers and other furnishings lined the curbsides near student housing areas. Higher-quality items were likely to be snatched up by opportunist "Dumpster divers." The rest will be part of the estimated 75,000 pounds of garbage collected over this weekend.
Sanitation workers and residents weren't the only ones busy. In fact, several businesses said the moving rush brings them the best business of the year.
Lawrence U-Haul Center, 540 Kasold Drive, was filled with customers picking up trucks, dropping off storage trailers and buying moving supplies. Mike Morena, a customer service representative, said the store rented out all of its trucks, even after temporarily adding more to its fleet. He said some customers reserve trucks a year in advance.
Local contractors, like Gene Hadl, must rush to prepare houses for new tenants. Hadl said this weekend is his busiest; this year, he has four houses to repair in only a few days. Sometimes the repairs are minor, Hadl said, while other times he must fix houses that haven't seen maintenance in years.
Linda Cottin, owner of Cottin's Hardware and Rental, 1832 Mass., also said the end of July brings her the most business. She said residents and landlords alike visit the store for their last-minute maintenance needs.
"It's like Christmas here," Cottin said.
Andrew Parent, a Kansas University student from Chicago, said he planned on touching up his apartment to avoid losing his deposit, equal to a month's rent. But before he could do that, he had to finish moving into his new house on Tennessee Street. A neighbor lent him a truck, and with the help of his parents, Parent said he hoped to finish Saturday before temperatures got hotter today.
Copyright 2018 The Lawrence Journal-World. All rights reserved. This material may not be published, broadcast, rewritten or redistributed. We strive to uphold our values for every story published.