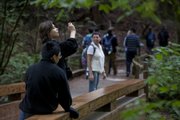 Stefan Petrovic and his fellow teammates representing the United States tied for fourth place at the National Geographic World Championship, an international geography bee in San Francisco.
Petrovic, who will be an eighth-grader at South Middle School, and two others equaled Australia's combined score of 96 points during early rounds of the three-day competition, which ended Wednesday at Google's world headquarters in Mountain View, Calif.
Petrovic said he was proud to represent the United States, but sad his team just missed the finals — a disappointment he attributed to the team having "overthought" bar graphs and charts on a written exam regarding urbanization and city growth rates.
"That's the danger of knowing a lot," he said, with a laugh.
In Wednesday's finals, Russia finished first, followed by Canada and Chinese Taipei. The competition drew 17 teams from around the world.
Petrovic was chosen for the U.S. team after finishing third and winning a $10,000 college scholarship in the National Geographic Bee, a competition that started with more than 5 million students. Petrovic, whose parents are Uros and Zina Petrovic, had finished fourth in the national bee a year earlier.
Copyright 2018 The Lawrence Journal-World. All rights reserved. This material may not be published, broadcast, rewritten or redistributed. We strive to uphold our values for every story published.