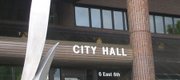 Subscribe to the email edition of Town Talk and we'll deliver you the latest city news and notes every weekday at noon.
News and notes from around town:
• As we predicted would happen, Lowe's has filed plans at Lawrence City Hall to build a new 145,000-square-foot store at the northwest corner of Sixth Street and Congressional Drive. The proposed site is just west of the Walmart at Sixth and Wakarusa. The plans — filed by local architect Paul Werner — propose the Lowe's store plus two other smaller buildings that would front on Sixth Street. The development proposal comes after city commissioners previously balked at plans to build a Lowe's near Sixth and Folks Road. Commissioners cited concerns about that project being too close to Free State High. The new proposal moves the store farther from the high school, but places it on land currently zoned for apartment development. Whether planners believe the area near Sixth and Wakarusa can support more retail development will be a major question with the project. Developers submitted information with the plans that indicate the area certainly can handle any additional traffic that would be created by a Lowe's. A private traffic engineer hired by the development group estimated that the Sixth and Wakarusa intersection is operating at 33 percent of its capacity, while the Sixth and Congressional intersection is operating at 18 percent of its capacity. The engineer estimates Lowe's would increase traffic volumes at the intersections by about 25 percent. I'll get you more information as I begin to talk to some of the players involved.

• Sources tell me to keep an eye on the former Tanger Factory Outlet Mall — now the I-70 Business Center — in North Lawrence. Word from multiple sources is that a major office user is set to locate in the former mall. No word yet on who the tenant is, other than it is an out-of-state company that currently has a Lawrence office but wants to have a larger presence in the city. Job numbers also are sketchy, but it sounds like the company could be adding 50 or more jobs. The deal, which I hear will be finalized soon, would bring the I-70 Business Center space to near capacity. That would be quite a transformation for the property, which often has been pointed at as an example of development gone bad because it sat largely vacant for years as the outlet mall phase faded in Lawrence. Now, the center is home to the corporate headquarters of Protection One security, serves as a call center for a home oxygen supplier, houses the state driver's license office and several other smaller tenants. It always seemed like the property should work as an office park. It obviously has great access to the Kansas Turnpike and it has one of the larger parking lots in the city. Perhaps its time has finally come.
• If you want to understand Lawrence streets, you need to understand fly ash. Yes, fly ash. It is a by-product of burnt coal from power plants, and when you mix it with water it becomes hard like concrete. The city of Lawrence requires that fly-ash be mixed with dirt to create a solid base for new streets that are built in town. But it wasn't always that way. And as the mantra in City Hall goes, that is one of the major reasons that Lawrence seems to have more than its fair share of crumbling streets.
But, is that mantra true? City commissioners asked the city's performance auditor to check in on the issue. His new audit on pavement data is now out. Basically, he found that the fly-ash is making a difference in the quality of streets, and that the public works department does a good job of monitoring the changing world of pavement design to ensure the city doesn't fall behind the curve again.
For those of you hoping to find answers about why the city fell behind in the first place, you won't find many here. The audit simply notes that the city changed its street standards in 2003 — that's when Public Works Director Chuck Soules joined the city — but that "some other area communities had raised their standards years before Lawrence." We've written an article about that subject before, even talking to the city's former public works director who said he certainly wishes the city would have used more fly ash and more common sense in some cases. It also points out that the treated base issue isn't the only reason our streets are crumbling.
As for what the audit did find:
The audit compared streets built in 2002 without the fly-ash and streets built in 2003 with it. The report found that 76 percent of non-residential streets built without the fly-ash treatment had potholes. That compares to 41 percent of the streets that were built using the treatment.
Based on current pavement data — collected by public works employees who inspect and rate the condition of each street in the city — non-residential streets built with the fly ash treatment are expected to last 25 percent to 40 percent longer before they need crack sealing, microsurfacing or mill and overlay.
Only 10 percent of the 205 miles of streets built in the 1980s and 1990s had a fly-ash treated sub-grade. In the last decade, 70 percent of newly built streets have treated subgrades.
Public Works officials are monitoring street conditions and construction standards more closely, and are implementing more frequent changes in construction standards. For example, last year the city changed its construction standards related to the use of recycled asphalt after officials began noticing the material seemed to be wearing at a much faster rate than standard asphalt. Since 2009, the city has been hosting an annual meeting with area contractors during which the city communicates changes to design standards.
City Auditor Michael Eglinski's only recommendation for the city was to create a formal policy on how to maintain brick streets. The city for years has struggled with whether they should rebuild brick streets as brick or whether they should be replaced with traditional asphalt or concrete. It is definitely a money issue. Brick streets cost about three times as much to build as a conventional street.
City Manager David Corliss, in his response to the audit, said he agreed that a policy should developed. He said that one option could be that numbered streets that run east/west could be rebuilt with concrete or asphalt, while brick streets that run north/south could be rebuilt with brick. Those north/south streets tend to be more residential in nature, Corliss noted. Plus, he said the bricks from the east/west streets could be salvaged and used in rebuilding the north/south streets. Expect that idea, or something like it, to be presented to the City Commission in the future.
City commissioners tentatively are scheduled to review the findings of the audit at their Aug. 2 meeting.
• Speaking of changes at City Hall, look for one in the economic development arena. Corey Mohn, the city's economic development coordinator, will be leaving the city position at the end of this week. Mohn will take a leadership position with Network Kansas. The organization is a statewide network that helps entrepreneurs and business start-ups with financing and other issues. The group — also known as the Kansas Center for Entrepreneurship — recently received another $10.5 million to distribute as seed capital for business start-ups and expansions. I expect to be hearing more about this group in the future. I understand that the cities of Baldwin, Eudora and Lecompton are putting together an application to work together to create a program that would allow businesses in those communities to access that funding. More on that in the future.
As for Mohn, he's been with the city for only a few months. He came to the position from the Kansas Department of Commerce. He replaced Roger Zalneraitis, who left Lawrence to become the executive director of an economic development agency in Colorado. I haven't had a chance to talk to City Manager David Corliss about Mohn's departure, but I assume the position will be filled. Economic development has been a priority of the commission. This position does all the analysis of incentive requests the city receives, and also works with the Chamber of Commerce to provide information to new businesses and firms looking to expand.
Copyright 2018 The Lawrence Journal-World. All rights reserved. This material may not be published, broadcast, rewritten or redistributed. We strive to uphold our values for every story published.