Editor's note: This is the second in an occasional series of stories by reporter Andy Hyland, asking Kansas University staff to share "16 Things I've Done."
For my second installment in this ongoing series, I visited the office of Barbara Anthony-Twarog, a Kansas University professor of astronomy, and a member of the KU Women's Hall of Fame.
Here are 16 things she's done:
• Grew up in South Bend, Ind., where her father was a member of the physics department at Notre Dame. She remembers buying an Edmund Scientific telescope, which first introduced her to the world of astronomy when she was a teenager.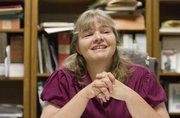 • Became the first woman to graduate from Notre Dame in physics, which was her father's department (he would inevitably know her test scores a couple of hours before she would, she recalled).
She said she wondered then why more women weren't interested in the field.
"Sadly, I still look around and ask that question," she said, though adding that the situation has improved today.
• Remembers being inspired by what she thought was a Russian Sputnik satellite in the sky as a child, but now believes she may have actually seen something else, as the spacecraft was probably too small to see with the naked eye.
• Became the first woman faculty member in the physics department at KU in 1982 and was the only one for the first 11 years she was at the university.
Issues like pregnancy were sometimes a struggle to deal with for the first time in the department — people covered classes, but how to cover her research was a different matter, she remembered.
• Married "the right person," her husband Bruce, whom she met at graduate school at Yale University. The two have been professional collaborators as well.
"My career as well as my personal life has been shaped by that partnership," she said, so they both figure they'd better keep it going.
• Shared one full-time faculty position with her husband for three years when they first came to KU so they could work together. Anthony-Twarog said Deanell Reece Tacha, who was then working as vice chancellor for academic affairs, was instrumental in making that situation work, and helped to push for similar arrangements when they worked out for everyone.
• Gave birth to her second child, Nathaniel, while on sabbatical in Chile at a national observatory. The child was delivered using a surgical procedure, and her husband wasn't allowed to be with her.
"Medicine is very good there," she said. "If you can afford it."
• Lent her name to an asteroid, an honor bestowed upon her by the Northeast Kansas Amateur Astronomer's League. That group received the parts of an old telescope that used to sit atop Lindley Hall, Anthony-Twarog said.
She has also delivered a number of lectures and other programs for the group.
"It's a very well-behaved asteroid," she said, and one that isn't going to come careening into Earth anytime soon.
• Gave birth to one other son, Anthony. Neither of her sons followed in her parents' footsteps, she said. Nathaniel is studying the brain and cognitive science at the Massachusetts Institute of Technology, and Anthony is studying screenwriting at New York University.
• Volunteers at LINK, the Lawrence Interdenominational Nutrition Kitchen, and serves a hot meal to those who need it four times a week.
"I like the fellowship of the people doing it," she said.
• Catered the wedding of a former student.
"She didn't have parents and was going to have a bag of chips," Anthony-Twarog said. "We said no."
She got a few job offers after that, she remembered, but said her full-time job kept her busy enough.
• Placed a focus on teaching, enough so to earn her a Kemper Award.
Her greatest rewards in teaching, she said, come from the B students who come back years later and talk to her after rarely speaking to her in class or during office hours.
"If you had any role in that confidence or success, you feel extremely gratified," she said.
• Conducts research on light filters for telescopes and helped apply technology now used for receivers in cellphones to telescope filters. Some of the technology she helped develop is now in use in the Hubble Space Telescope.
• Called Edwin Hubble, for whom the space telescope is named, a "revolving bastard" in class once, to mean he was a bastard from any angle you looked at him. It wasn't her expression, she was quick to point out, but it served to point out he was a good scientist, but not necessarily a very friendly man.
• Regrets that she wasn't able to articulate more research in the department, though she's proud of the research she's done. She said some time that other people may have devoted to research was sacrificed as a consequence of keeping some focus on family life in addition to focusing attention on her teaching.
• Watched the Atlantis space shuttle launch live recently on television, marking an end to NASA's shuttle program.
"This has been a lot of my remembered life," she said of manned space flight. "It'd be nice to be around long enough to see something new."
Copyright 2018 The Lawrence Journal-World. All rights reserved. This material may not be published, broadcast, rewritten or redistributed. We strive to uphold our values for every story published.