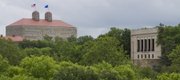 Subscribe to the email edition of Heard on the Hill and we'll deliver you the latest KU news and notes every weekday at noon.
Your daily dose of news, notes and links from around Kansas University.
• KU's strategic planning effort is chugging along, with some new information being released on it this week at the provost's website.
We've got four new strategic initiative themes now, on which KU will focus as it puts more elements of the plan into place in the coming months.
The themes and co-chairs are:
• Sustaining the Planet, Powering the World. Led by Bob Honea, director of the KU Transportation Research Institute; Joane Nagel, distinguished professor of sociology; and Judy Wu, distinguished professor of physics.
• Promoting Well-Being, Finding Cures. Led by Jeff Aubé, professor of medicinal chemistry; John Colombo, director of KU's Life Span Institute; and Dave Ekerdt, professor of sociology.
• Building Communities, Expanding Opportunities. Led by Marta Caminero-Santangelo, professor and chair of English; Derrick Darby, associate professor of philosophy; Don Deshler, director of KU's Center for Research on Learning; and Steven Maynard-Moody, director of KU's Policy Research Institute.
• Harnessing Information, Multiplying Knowledge. Led by Perry Alexander, director of KU's Information and Telecommunication Technology Center; Nancy Baym, associate professor of communication studies; and Kris Krishtalka, director of KU's Biodiversity Institute and its Natural History Museum.
I'll be watching in the future to see what kinds of efforts come out of the grand plan.
• Here's an interesting idea I spotted this week. A 5k run in Overland Park will support scholarships for students who transfer from Johnson County Community College to KU's Edwards Campus.
It's the fourth year for the program, which has raised $35,000 for undergraduate scholarships in the last three years.
The race, in a fine bit of symbolism, begins at JCCC and ends at the Edwards Campus at 127th Street and Quivira Road in Overland Park.
• Reader John Eberhardt of Denver contacted me with a story he recalled from his days on campus in the 1940's dealing with honorary degrees.
He said he recalled that KU's policy at the time of granting no honorary degrees went back in some degree to the days of William Allen White, the famous editor of the Emporia Gazette who lent his name to KU's School of Journalism and Mass Communications.
As he recalled, the policy of not granting degrees began after White refused one that was offered to him. Don't know if anyone's heard anything similar, but let me know if you have.
• Put a little something in the Heard on the Hill tip jar by sending me some good info at ahyland@ljworld.com.
Copyright 2018 The Lawrence Journal-World. All rights reserved. This material may not be published, broadcast, rewritten or redistributed. We strive to uphold our values for every story published.