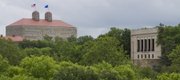 Subscribe to the email edition of Heard on the Hill and we'll deliver you the latest KU news and notes every weekday at noon.
Your daily dose of news, notes and links from around Kansas University.
• A Heard on the Hill tipster sent me a few links about a new project being led by Fred Elder, a KU engineering graduate who is now an adjunct professor of mechanical engineering and engineering physics at the University of Wisconsin-Madison.
He's led a team that won a $48,000 award from the National Space Grant Foundation to test an inflatable tent in space.
The competition "charges university teams to design and rapidly develop inflatable, habitable spaces NASA can integrate onto an existing demonstration laboratory, according to a statement from the University of Wisconsin.
Elder is leading the team of undergraduates developing the "Badger X-Loft" prototype, which is about 13 feet tall and 16 feet in diameter. It can house four crew members for several days, and includes a desk and chair for each person, and private sleeping quarters.
"He doesn't get to go to space, only Arizona," my tipster pointed out. There, they will test the unit on a simulated astronaut mission to an asteroid.
• A KU researcher was quoted in a story in USA Today about a new study linking a risk of increased falls to the early onset of Alzheimer's disease.
Jeffrey Burns, director of the Alzheimer and Memory Program at the KU School of Medicine, was asked about the study, led by a researcher from Washington University in St. Louis.
The study used positron emission tomography (PET) scanning to detect the presence of amyloid, an early indicator of Alzheimer's disease. The study found that the people who showed signs of amyloid but were otherwise healthy had twice the risk of falling.
"It's a small study, but certainly an interesting finding and likely to be of clinical importance down the road if these scans become available," Burns told the newspaper.
It also raises more questions about the early onset of the disease, he said.
"These results apply to cognitively normal individuals who have amyloid in their brains. It's something we're just beginning to learn about. What does it mean, what's the significance when someone has no obvious cognitive problems?"
• The Huffington Post featured an article recently that featured a KU graduate's struggle to find a job after graduating with a degree in strategic communication.
Eric Hammond, a 22-year-old graduate is waiting tables "indefinitely" until he finds something better. Though the article is written with a New York dateline, it doesn't mention where Hammond is living these days.
It does say, however, that he has $35,000 in student loan debt and few job prospects in sight. He'll be moving back in with his father soon, the article says, to save money.
I'm sure not all grads are in Hammond's situation, but it's a good reminder that for many recent graduates, a full economic recovery can't come soon enough.
• I don't have $48,000 to give to folks to come up with great tips for Heard on the Hill, but you will have my heartfelt gratitude. So keep sending them to ahyland@ljworld.com.
Copyright 2018 The Lawrence Journal-World. All rights reserved. This material may not be published, broadcast, rewritten or redistributed. We strive to uphold our values for every story published.