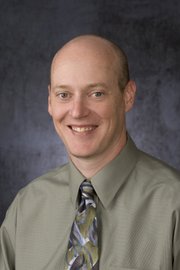 The body of a drowned Lawrence kayaker was found by authorities Friday afternoon in the Kansas River, according to officials from the city of Topeka.
Ryan L. Moore, 36, was found downstream in the river, near the city's water treatment plant by members of the Topeka Fire Department's boat team, said Topeka Police Lt. Steve Purney on Saturday.
David Bevens, city of Topeka spokesman, said witnesses reported seeing a kayaker near the water plant and later reported seeing an empty kayak floating in the river. Moore was identified by his truck found near the scene, Bevens said.
Police didn't suspect foul play in the incident, but detectives were continuing to work on the details surrounding the case, Purney said.
"It appears the kayak capsized and he didn't come up," he said.
Moore was a physician at the St. Francis Health Center in Topeka, and was board certified in both internal medicine and pediatrics, said Eryn Myrick, hospital spokesperson. Moore also graduated from the University of Kansas School of Medicine.
"It is a shocking, tragic and sad day as we lose a very special part of our St. Francis family," said Robert Erickson, St. Francis president and chief executive officer. "He was truly a talented, caring, 'rising star' in our organization. To our staff and patients, he was someone who always put others first and was a true collaborator and team member."
Ralph Reed, a neighbor and friend of Moore's, said Moore was a good husband to his wife, Laura. He also had a young daughter, Reed said.
"It's a terrible shock," he said. "He was always willing to help you. He was everything you could ask for in a neighbor and a friend."
Copyright 2018 The Lawrence Journal-World. All rights reserved. This material may not be published, broadcast, rewritten or redistributed. We strive to uphold our values for every story published.