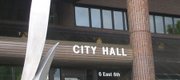 Subscribe to the email edition of Town Talk and we'll deliver you the latest city news and notes every weekday at noon.
News and notes from around town:
• Pedestrians soon may notice a change in Downtown Lawrence related to, well, pocket change. City commissioners at their meeting on Tuesday will consider giving approval for staff members to move ahead with a plan to install parking meter-like devices at various locations around downtown. But the devices wouldn't have anything to do with parking. Instead, they'd have everything to do with trying to discourage panhandling in Downtown Lawrence. The devices would be "donation meters." The idea is people with "spare change" would be encouraged to deposit the spare change in the donation meters rather than giving the money to panhandlers. The money in the donation meters then would be given to social service agencies that work with people who are homeless.
Mayor Aron Cromwell brought up the idea when he took office more than two years ago. In May, Cromwell told me that he was a bit disappointed more work hadn't been done on that idea and others to discourage panhandling downtown. Several other cities, including Atlanta, Cleveland, Denver, Las Vegas, Miami and Nashville have donation meter programs.
The city plans to use old parking meters it already has in inventory for the program. It hasn't recommended a specific number of meter nor specific locations. Staff members want feedback from city commissioners about that issue. Staff, though, recommends placing the meters in locations where panhandlers often congregate now, such as near mid-block crossing areas, corners and breezeways. City commissioners also will need to decide what organizations the money should be given to.
This may not be the last effort the city undertakes on panhandling. Cromwell has said before that he wants a full-blown public education campaign about why people should not donate to panhandlers. I wonder while he is at it, if he could create a public education campaign targeted towards my wife. She seems to think all meters in downtown are donation meters. She seems to "donate" a $3 fine every time she parks at one.
• Have you ever been stuck behind a motorist on Ninth Street trying to turn left onto Kentucky? If that has frustrated you, city commissioners are exploring a project that may interest you. Earlier this year, the city received a $175,000 safety grant from the Kansas Department of Transportation to improve the traffic signal at Ninth and Tennessee streets. But as the city started looking at that area, it decided it should adding a left-turn lane at Ninth and Kentucky as well. The city believes it could use $125,000 in city funds to accomplish that part of the project. The idea will require widening Ninth Street between Kentucky and Tennessee streets, and that may cause some on-street parking spaces to be lost. No details yet on how many, or whether that is likely to create a problem with businesses along that stretch of street. Commissioners are being asked to approve debt financing for the project at their Tuesday meeting.
• As we've previously reported, the owner of Tortas Jalisco in West Lawrence has plans to open a restaurant in downtown. Well, now he has a name for it as well — Mexquisito. The restaurant will be in the former Teapouro location at 712 Mass. Owner Angel Alvarez told me the restaurant will be similar to Tortas Jalisco, but its menu will be slightly different. He said he plans to have more dishes that carry the flavor print from Mexico City rather than the Jalisco region of Mexico. So, you have a perfect idea of what I'm talking about now, right. Yeah, I don't either. Alvarez said it kind of would be like comparing California cooking to Kansas cooking. He tried to explain it further, but said the best bet is for people to just come and see for themselves. Imagine that. As for when the restaurant will be open, he's still trying to get all the final approvals from the city. Once those are done, he hopes to be ready to open in about four weeks.
• I am getting a lot of questions about Vermont Street BBQ and whether its reopening is still on track. I wish I had some news to report to you. I haven't been able to catch up with the owner of the restaurant. We reported back in February that the former general manager of the restaurant was going to reopen the popular eatery in the spot formerly occupied by Joe College. A sign for the restaurant still is in the window of the location. But I peeked through an opening in the butcher paper covering the window, and there wasn't any work going on yesterday. The space is still pretty much a shell with what looks like a new floor and some light fixtures that have been hung. I couldn't tell whether work had begun on a kitchen or not. Originally, the owner had hoped to open by April or May. I'm still hoping to get more info in the near future. Chris, if you're reading this, call me. I've lost your cell number. (There you go everybody, your look behind the journalism curtain. It is pretty high tech stuff, isn't it?)
• Restaurants in Lawrence should be loving this coming week. The city will be host to the US Specialty Sports Associations World Series Girls Softball 12B tournament during the week of July 17 and 23. That means teams of 12-year-old girls and their families will descend upon the city. The Lawrence Convention and Visitors Bureau — which has been a driving force in attracting the event — is expecting 60 teams for a total of 2,200 visitors. Those visitors are expected to spend $1 million in the city during the week. The opening ceremony for the tournament will be a Hoglund Ballpark on Monday. The Outdoor Aquatic Center will be closed from 5 p.m. to 8 p.m. on Wednesday for a social event related to the tournament. Tournament games will be played at the Clinton Softball Complex and the Youth Sports Complex in West Lawrence.
• UPDATE: Yesterday I reported a rumor that the crew of "Extreme Makeover Home Edition" was staying in a Lawrence hotel because the show apparently will remake a house in the area. The rumor was the crew would be working about 45 minutes south of Lawrence. Well, the Ottawa Herald in today's edition is speculating that the home will be in or near Ottawa.
"We feel very strongly it is going to be near Ottawa or at least in Franklin County," Tom Weigand, the president of the Ottawa Chamber of Commerce told the Herald.
The show's public relations director told the Herald that about a dozen families have been under consideration for the show. The winner will be announced on July 31 when the family receives that famous knock on their door. Remodeling work will begin the next day, and is expected to be completed in about a week. The show likely would air in September or October.
I didn't mention yesterday that the show is looking for volunteers. People 18 years and older can sign up at www.joinextreme.com/kansas. The show also will be hosting a "pep rally" at 6 p.m. Tuesday at the Overland Park Convention Center.
Copyright 2018 The Lawrence Journal-World. All rights reserved. This material may not be published, broadcast, rewritten or redistributed. We strive to uphold our values for every story published.