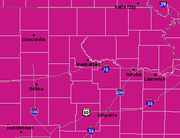 Kansas weather updates, via Twitter
3:31 update
The NWS has just extended the warning. It is now in effect until at least 7 p.m. Wednesday. For those who are keeping track at home, that's six days straight of temperatures in the high 90s and low 100s.
1:07 p.m. update
With the heat expected to stick with us for several days, The Douglas County Emergency Management office has released a number of tips for staying safe when the temperatures are elevated.
Among the tips:
• Drink plenty of nonalcoholic fluids, but avoid extremely cold drinks, as those can lead to stomach cramps.
• Stay indoors, in an air-conditioned building. If you don't have access to an air conditioner at home, here's a list of community buildings you can visit.
• Wear lightweight, light-colored, loose-fitting clothing.
• Never leave a person or a pet in a parked car.
• If you are outside, take frequent breaks, reduce exercise and remember to protect yourself from the sun with hats, sunscreen and sunglasses.
• Although anyone can suffer from heat related illness, pay special attention to infants and young children, anyone age 65 or older, people who have a mental illness and people who are physically ill.
8:35 a.m. post
Lawrence and all of northeast Kansas will spend another weekend sweating under temperatures so high as to cause the National Weather Service to issue an excessive heat warning.
According to the weather service, warm and moist air in combination with sunny skies will lead to high temperatures of about 100 degrees, with heat indices above 105 degrees through Tuesday. Accordingly, an excessive heat warning goes into effect at 1 p.m. Friday and will not expire until "at least" 7 p.m. on Tuesday.
The weather service urges everyone to be mindful of strenuous outdoor activity, and to reschedule being outside to early morning or late evening hours, when possible.
You should also check on family members and neighbors, especially the elderly. And remember not to leave pets without shelter or water.
Copyright 2018 The Lawrence Journal-World. All rights reserved. This material may not be published, broadcast, rewritten or redistributed. We strive to uphold our values for every story published.