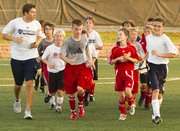 When Sporting Kansas City defender Matt Besler was 12 years old, he struggled to motivate himself to develop his soccer skills during the brutal heat of Kansas City summers.
That's one of the main reasons he found time during his busy Major League Soccer schedule to help out cousin Hunter Peirce at Wednesday's session of the Rising Stars Soccer Clinic at Free State High.
Besler, a 24-year-old center back recently named to the MLS All-Star team, led the 25 or so campers in a cool-down jogging game, answered a variety of questions and signed autographs on everything from cards to cleats.
He made the trip from Kansas City despite taking a knock to his legs in Sporting KC's 2-0 loss to the Richmond Kickers in the U.S. Open Cup on Tuesday at Livestrong Sporting Park.
"This is something that was important to me," Besler said.
Sporting KC and Peirce, who received a $500 grant and a $2,000 college scholarship, are putting on the clinic. Sixth-, seventh- and eighth-grade boys started the three-day clinic Monday and will finish Friday.
Girls will get their chance next week.
The goal of the clinic is to prepare players for the high school soccer experience. Coaches emphasize the fundamentals and the importance of team defense and communication.
"I think a lot of freshmen get here, and they're not really ready for it," said Peirce, a senior-to-be who has been a varsity midfielder the past two seasons.
After receiving an email from his mother, Peirce applied for one of 22 spots by detailing his plan to help Lawrence's growing soccer community.
When he was in junior high, there wasn't much locally in terms of soccer development, so he hopes more camps spring up in the area.
But Peirce always wants to emphasize the fun of the game. He and other Free State players host pick-up scrimmages on Saturdays, and sometimes they lure football players to the pitch.
"Even if you're not a varsity soccer player, it's still fun," Peirce said.
He said he thought Besler's appearance would motivate youths to work on their skills.
Besler said Sporting KC is trying to focus on developing soccer in the Lawrence area.
"There's a lot of potential," Besler said.
One camper asked Besler what he wanted to be when he was a kid. Besler told the truth: He always wanted to be a professional soccer player.
But while at Notre Dame, Besler studied pre-med, just in case the soccer thing didn't work out. He would've tried to become an eye doctor.
And though he was a bit disappointed he couldn't kick the ball around with the campers, he said he hoped his appearance would encourage the players to work hard.
"That's probably why I make time," Besler said.
A few spots are available for the girls camp. Email hpsport ing22@gmail.com for more information.
Copyright 2018 The Lawrence Journal-World. All rights reserved. This material may not be published, broadcast, rewritten or redistributed. We strive to uphold our values for every story published.