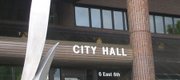 Subscribe to the email edition of Town Talk and we'll deliver you the latest city news and notes every weekday at noon.
News and notes from around town: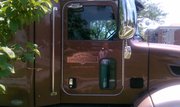 • This is where I wish I had some sort of technological device that could filter out portions of this Town Talk column so my wife would not be able to read it. But alas … chocolate lovers will have something new to cheer in downtown. Cold Stone Creamery, 647 Mass., is in the process of adding a Rocky Mountain Chocolate Factory franchise to its location. Store employees told me training is expected to begin in the next week, so the chocolate store likely will be up and running within the next couple of weeks. Lawrence had a Rocky Mountain Chocolate Factory for quite a while in the lobby area of the SpringHill Suites by Marriott at Sixth and New Hampshire streets. But that location closed, and the town has been without one for awhile. The chain sells all sorts of individual and boxed chocolates, in addition to caramel apples, fudge and other similar sweets. I'm sure I'll find out what else they sell in more detail as I examine my credit card receipts.
• Lovers of Olive Garden Italian food may have less to cheer about. As we reported before the July 4 holiday, the city's Public Incentives Review Committee dealt a blow to a development that would house an Olive Garden restaurant at 27th and Iowa streets. The committee actually recommended approval of some tax rebates for the project, but it did so with negative votes from Mayor Aron Cromwell and City Commissioner Bob Schumm. Ultimately, the City Commission makes the final decision on the tax rebate issue. Without Cromwell and Schumm's support, the project doesn't have enough votes at the City Commission to proceed. (Remember, Commissioner Mike Amyx isn't voting on the development because his parents sold some land to the developers, so the project needs to win three of the four remaining votes.) When we last reported on it, we said if there was to be a change of heart it would come from Cromwell. He struggled a bit at the PIRC meeting on which way to vote. But I've checked in with City Hall sources and I've been told there has been no change on that front. In fact, it has been suggested to the developers that they withdraw their request and not even allow it to come to the City Commission level. For the last two days, I've called an attorney with the development group to see if they indeed are withdrawing the request. I haven't heard back.
It will be interesting to see if the group decides to make commissioners consider the project anyway. At the PIRC meeting, County Commissioner Mike Gaughan urged the city to look at creating a Community Improvement District for the project. That is one of those districts that is allowed to charge a special sales tax that can be used by the developer to help make a project work financially. This same development group — MD Management — asked for a special taxing district for property it owns around 23rd and Ousdahl. That set off a storm of public opposition against the idea of special sales taxes.
But what people forget is that at one point it seemed the City Commission was close to reaching a compromise on allowing CIDs to be used in Lawrence. In June 2010, a majority of commissioners said they might be more comfortable with the special taxing districts if the districts were required to post a sign notifying shoppers that a special sales tax was being charged. There long has been a concern that these special tax districts are not transparent enough to consumers. Originally, the Lawrence Chamber of Commerce expressed concern at the sign idea. But then in July 2010, it brought forward a proposed sign it could support. At the same time, the City Commission agreed to hold a public hearing on the 23rd and Ousdahl special taxing district. But from that point on, the sign proposal and the 23rd and Ousdahl project just withered away.
I got the sense that there was a political decision made that it would be best not to have this issue discussed by the City Commission so close to the April City Commission elections. I got the sense some didn't want this to become an issue for campaigns. If that was the thinking, it didn't work out. Bob Schumm ended up using the issue of "sneaky taxes" to win a first-place finish in the election. Now, it is probably more politically difficult than ever to bring up the idea of special taxing district.
But I still wonder whether the sign idea would have appeased a majority of people opposed to the special taxing districts. (It certainly wouldn't appease all.) In a town that has recently let its residents vote on whether to raise their taxes for streets, transit and library, would it allow consumers to vote — with their pocketbooks, so to speak — whether they want to pay an extra tax to eat at the Olive Garden? I don't know, and I don't think we're going to find out.
• Speaking of financial incentives for projects, here's one I'm going to get you more information on. But for now it is clear that a project to convert the former Poehler warehouse building at 619 E. Eighth St. into an affordable rental housing program is moving forward. But it also is clear it will seek city financial incentives to do so. City Manager David Corliss has confirmed that a Kansas City development group is seeking $750,000 worth of public improvements (and perhaps some private ones) to be made in the area surrounding the old four-story Poehler building. The bulk of the money would go to reconstruct Delaware Street between Eighth and Ninth streets. The project would include new pavement, storm water upgrades, new curbs and new sidewalks. But the request also seeks help with some off-street parking for the project. I'll check into this more, but I believe that means financial help with constructing a privately owned parking lot for the building.
The $750,000 in city money would be in addition to local property tax rebates the development can qualify for. It has been a given that the project would seek those rebates (which are the same kind Olive Garden is seeking). The area surrounding the Poehler building already has been approved as a Neighborhood Revitalization Area, which makes it eligible for the rebates. (The area got that designation when local developer Bo Harris planned to revitalize the area. That project ultimately fell on hard financial times.) The $7 million Poehler project also is using state tax credits to help finance its construction. Those state tax credits to come with the requirement that the apartments in the project be subject to an element of rent control. The idea is the apartments will be rented below the prevailing rental rates in the city. The developer previously has said one-bedroom units would start at about $500 a month. Two-bedroom units would be about $600 a month.
Copyright 2018 The Lawrence Journal-World. All rights reserved. This material may not be published, broadcast, rewritten or redistributed. We strive to uphold our values for every story published.