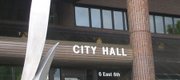 Subscribe to the email edition of Town Talk and we'll deliver you the latest city news and notes every weekday at noon.
News and notes from around town:
• Pizza, pizza. Well, actually make that just one pizza. As we previously reported, Little Caesars pizza had filed plans to open a store at Sixth Street and Monterey Way in the shopping center adjacent to Hy-Vee. That store is now open. But the opening caused the company to close its other Lawrence store at Kasold Drive and Bob Billings Parkway. The new store, which is on the far northeast corner of the shopping center, does include what is becoming a new feature for pizza places — a drive-thru lane. I believe it is the type of drive-thru where you call ahead and then pick up your order. After all, with gas prices the way they are, you would have to be Donald Trump (is he still rich or just famous now) to sit with your car running while someone makes you a pizza. With the opening, the Hy-Vee shopping center now is pretty much full, except for one prime space just east of the grocer. That spot used to be filled by Pizza Street, the buffet restaurant that has been closed for a quite awhile now.
• Speaking of gas prices, who needs Vegas when you've got the Lawrence gasoline market? Lawrence gas prices have been a hot topic with readers for weeks now, and LJWorld reporter Christine Metz has been looking to find some answers. One article pointed out that Topeka is going through a price war, as several new stations have opened. (Geez, Topeka gets candy and "cheap" gas.) But I think it is safe to say we're still trying to get a good explanation on several other fronts. I know that I've noticed several prices that have made me scratch my head. Here are three:
I'm from the small Osage County town of Melvern. Late last month I was back in town to do some boating on beautiful Melvern Lake (really, it is a hidden gem in eastern Kansas). I put gas in my boat at the one and only gas station in town. And it is safe to say that this gas station is not part of some big conglomerate. It is a two-pump, full-service gas station. That's right, the owner of the station — a man named Harley — comes out and pumps your gas. He'll also give you updates on the NHRA drag racing season and cuss the hot weather, if you prompt him. During the winter, you can warm up around his wood stove. On the day that I filled up, gas at that little station was a nickel cheaper than the prevailing price in Lawrence. I've been buying gas in both towns for the last 20 years, and I don't think I've ever seen that. What's changed?
On Friday, I was driving back to Lawrence via Emporia. Gasoline in Emporia was 10 cents per gallon cheaper than it was in Lawrence. Given our recent articles, that didn't surprise me. I don't know how this factors into Lawrence's situation, but when it comes to the gas market, Lawrence is different from many other major cities in the state. Help me out here, because I'm not sure of this. Is Lawrence the largest city in the state that doesn't have access off of a non-toll interstate highway? Interstate traffic and the thousands of vehicles it produces plays a major role in gas prices. I'm guessing because of the toll situation, Lawrence doesn't get a ton of fill-ups from interstate travelers. It would be easier to just fill up in Kansas City or Topeka when you are off the toll road. How this factors into Lawrence's gas prices, I'm not sure. I always thought more demand drove up prices. But maybe because of the lack of demand, Lawrence isn't as competitive of a market as we think a city of 90,000 people (many of them students who don't drive as much as non-students) should be. As I've said before, I understand supply and demand less and less each day.
The last one happened yesterday. I put some gas in the F-150 at Eudora and paid $3.38 per gallon at the Kwik Shop. I travel six miles into Lawrence, and gas at the Kwik Shop at 23rd and Harper was $3.49 per gallon. Gas at all the stations on 23rd Street from Harper to Haskell was $3.49 to $3.53 per gallon. I know this was the situation from at least the afternoon to about 10 p.m., because I checked it more than once. (Don't worry bosses, I'll submit a mileage report.) So, to summarize, a town that has exactly two gas stations was selling gas 11 cents per gallon cheaper than the five stations that are located in what seems like should be one of the more competitive gas corridors in all of Lawrence. To top it off, two of the stations (Kwik Shop) are owned by the same corporation. I get gas in both towns quite regularly (see F-150), and normally the chances of gas being cheaper in Eudora are slim to none.
As I said, who needs Vegas?
• You'll get a better idea of how big your property tax increase will be from Lawrence City Hall on Tuesday. Commissioners at their weekly meeting will set the maximum mill levy for the 2012 budget. This is one of the final steps before they actually approve the budget. I suspect they'll set a maximum mill levy increase of around 3 mills and then will work to reduce that amount before they give final approval in mid-August. Compensation and healthcare for city employees is one topic that will be worth watching. As proposed, the mill levy is set to go up, in part, to help pay for about $535,000 in wage and compensation increases for city employees. Commissioners though are being asked to approve that expenditure without any explanation to the public of how those compensation increases will be administered. That's because the city is still negotiating with the city's police and fire unions. I would tell you how those negotiations are going and what the key issues are, but I can't because they happen behind closed doors. State law gives the city the option to negotiate in that manner.
As for healthcare, we previously reported that the city manager was proposing to have city employees begin paying a premium for their healthcare. (Currently, employees don't pay a premium for their coverage, although they do pay a premium to add their spouse or children to the plan.) City Manager David Corliss at one time was discussing a plan that would require employees to pay $11 per pay period for employee health insurance. But now, City Hall has backed away from that idea. Instead, the current proposal calls for a $5 per pay period (bi-weekly) premium. But the city also is proposing a system where all those premiums could be rebated back to the employee. If the employee agrees to fill out a detailed health assessment and if they sign a pledge to not smoke or agree to go to smoking cessation classes, they'll get the $5 per pay-period premium rebated. It does look like deductibles will rise under certain scenarios for city employees. But the city also is proposing to create Health Re-imbursement accounts for city employees.
The city would put $250 into an HRA for each employee to use for medical care expenses, such as deductibles. The city also is proposing to spend about $165,000 per year to operate a "health clinic" that would be run by Lawrence Memorial Hospital. The clinic would allow employees to receive services related to "disease prevention and health management" without having to pay for deductibles and co-insurance. None of the health care items in the budget are being funded with increased property taxes. Instead, they would be paid for by using about $1.25 million in reserve funds that have accumulated in the city health care account. Previously, the top administrator for the city's plan said she was uncomfortable spending down those reserve funds by that amount, but Corliss has included the spend-down in his recommended budget.
Copyright 2018 The Lawrence Journal-World. All rights reserved. This material may not be published, broadcast, rewritten or redistributed. We strive to uphold our values for every story published.