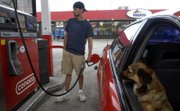 Despite higher gasoline prices, more Americans plan to travel over the Memorial Day weekend than last year, according to AAA. In Lawrence, gasoline prices are averaging $3.79, which is $1.10 higher than a year ago. To help ease the pain at the pump, here are some ways to save money on gas.
If you thought gasoline prices seemed higher in Lawrence than anywhere else in northeast Kansas, you are right.
Recently, Lawrence gasoline stations have been out of line with what their neighbors in Topeka and Kansas City are charging.
For proof, look at the average prices on Wednesday provided by AAA Kansas:
• Lawrence: $3.79
• Topeka: $3.63
• Kansas City, Kan.: $3.68
• Wichita: $3.65
• State average: $3.76 (as of Tuesday)
"Lawrence is sticking out like a sore thumb," said Jim Hanni, who is executive vice president of AAA Kansas and keeps a keen eye on gasoline prices across the state and country.
Hanni didn't have an explanation for why Lawrence's gas prices were higher — and neither did those in the industry.
"Each company has its own pricing scheme and how they do it," said Tom Palace, executive director of Petroleum Marketers and Convenience Store Owners Association of Kansas.
"Lawrence is one of the more competitive areas in the state, so I don't have an answer why it's higher than some other areas," Palace said.
The Lawrence Journal-World made repeated attempts this week to contact representatives of the companies that own the most gasoline stations in Lawrence: Zarco 66, Kwik Shop and Presto. Those companies did not respond to our inquires.
We were able to talk to one company, QuickTrip. But company spokesman Mike Thornbrugh said he wasn't sure what caused the Lawrence-specific price hike.
"Price is solely based on competition," Thornbrugh said. "There can be a whole set of different circumstances from community to community."
Both Thornbrugh and Palace said the prices could have something to do with the supply of gasoline. In the spring, oil refineries have to switch from producing winter blends of fuel to summer blends, which are intended to reduce smog.
Gasoline stations in communities that fall under Environmental Protection Agency guidelines — and need to get rid of winter blend fuels before summer regulations go into place — will drop prices, which could explain some of the difference, Thornbrugh said. Lawrence does not fall under those guidelines.
And Palace was quick to point out that gas stations had the right to charge whatever they want, but it's mostly driven by competition.
"Usually someone moves (the price down), and they all have to match it. If they don't match it, they lose business," he said.
While Hanni couldn't explain the irregularity in Lawrence gas prices, he did have good news about where the prices might head.
A combination of lower gas consumption, oil refineries completing the shift to summer blends and a strong dollar in Europe could cause gas prices to stabilize.
Analysts at AAA see gas prices shying away from the $4 a gallon mark and settling into a range of $3.25 to $3.75 a gallon throughout the country.
Of course, that prediction hinges on good weather and relative stability in the Middle East.
"There are always caveats and so many factors," Hanni said.
Copyright 2018 The Lawrence Journal-World. All rights reserved. This material may not be published, broadcast, rewritten or redistributed. We strive to uphold our values for every story published.