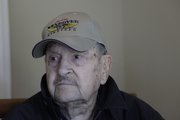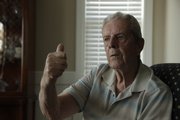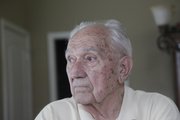 Clyde Bysom was already working for Boeing building B-29 bombers in Wichita when he enlisted in the Air Force in 1944.
Along with other veterans, the 93-year-old Lawrence resident will get to relive his days as a tail gunner in World War II when "Fifi," the only still-flying B-29, comes to the New Century AirCenter in Gardner this week.
Bysom was stationed on the island of Tinian in the Northern Marianas at the end of the war. From there, we would wake at 4 a.m. for the 13-hour round trip to make bombing runs over Japan. He spent most of that time alone in a cramped compartment at the back of the plane, wrapped in a flak blanket with his gun.
"I read the Bible quite a lot, especially during missions," to pass the time 30,000 feet in the air, Bysom said. "We would take turns sleeping."
Each 5.5-ton bomb — the plane carried only one per mission — could level 18 city blocks, Bysom said. His missions aimed for industrial targets such as supply depots and railroad yards.
His crew's B-29, "Some Punkins," named after its round orange bombs, may have flown the final combat mission of the war, targeting the Nagoya Arsenal. Just after they dropped their bomb, they heard over the radio that the war was over.
"We had just left the coast of Japan," Bysom said. "It took a little while to sink in (but) we were sort of expecting it. The war was winding down."
Back on Tinian, he joined in celebrations by playing his tenor sax, which he still plays Thursday nights at the American Legion with the Junkyard Jazz Band. After the war, he worked as machinist at the Sunflower ammunition plant and later for the Reuter Pipe Organ Co.
Tom Kugler, 90, of Lawrence, enlisted in the Army Air Corps after high school in 1939 and was trained as a bombardier, but he never saw combat. He flew various planes while stationed in Florida and patrolled the Caribbean for 18 months during the war.
Later, he trained on the B-29 at Great Bend Army Airfield in central Kansas. His crew, once slated to go to the Pacific soon after Pearl Harbor, did not go overseas and he was out of the service by the end of the war.
"When I was young and foolish, we wanted to kill everybody and save the world," Kugler said. "Now when I look back, I'm so happy I wasn't involved in all that."
The war was already over when Eldon Felix, 84, of Ottawa, arrived at Okinawa, where he was a mechanic on the ground crew of a B-29. "It was great working on the B-29," he said. "We had very little problem with it."
But when its missions ceased, Felix was put in charge of 12-person Japanese prisoner work crew. One of the captives secretly fashioned a B-29 model out of plastic to give to Felix in appreciation for a steady supply of cigarettes. It's a memento he still keeps and displays.
"He handed it to me and bowed," Felix recalled. "He was very friendly even though we couldn't understand each other."
Of his experience in the war, Felix said, "I'm glad I had it but I wouldn't want to do it again."
Rides on Fifi, as well as other planes, are available from July 15 to July 17 during the Annual Air Expo put on by the Heart of America Wing of the Commemorative Air Force, an organization that restores old military planes.
According to Bysom, B-29s were "very comfortable when everything worked."
But Kugler isn't interested in going back in time. "I wouldn't take a ride if they offered it to me," he said. "I don't want to fly around in some antique."
Still, he considers his time flying the best years of his life. "It was all a great experience, and I would do it again."
Fifi, most recently restored last year, tours the country. It will arrive from Colorado at the Gardner airport at about 11 a.m. on July 14. After the expo, it will go on to Oshkosh, Wis., for the country's biggest air show.
The B-29 rides range in price from $595 to $1,495. For more information, call 432-413-4100 or go to www.RideB29.com.
Copyright 2018 The Lawrence Journal-World. All rights reserved. This material may not be published, broadcast, rewritten or redistributed. We strive to uphold our values for every story published.