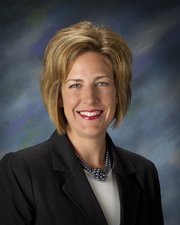 Kansas University has hired a scientist and business strategist from Purdue University to help the school move technology into the marketplace.
Julie Nagel will join KU on Aug. 1 as director of industrial partnerships, which is a new position in the Office of Research and Graduate Studies.
She will report to Julie Goonewardene, associate vice chancellor for innovation and entrepreneurship, who also recently jointed KU from Purdue.
"It's really exciting the focus that KU is putting toward commercialization," and entrepreneurship, Nagel said, saying that focus attracted her to the position.
Nagel will earn $120,000 per year in her new job.
At Purdue, she served as managing director of the Oncological Science Center at Purdue's Discovery Park.
She said she had the opportunity to interact with a lot of "really compelling" research in the cancer field, and she hoped to continue that at KU.
"I really have a passion for working in that area," she said.
Nagel will split time between KU Medical Center and the Lawrence campus.
"At Purdue, she's focused on making it easier for industry to work with faculty by finding solutions to the obstacles that sometimes block collaboration with the university," said Goonewardene in a written statement. "She's also helped educate faculty about becoming entrepreneurs and risk-takers with their ideas. We are about to ramp up our educational program in that area, and Julie will make a significant contribution."
Copyright 2017 The Lawrence Journal-World. All rights reserved. This material may not be published, broadcast, rewritten or redistributed. We strive to uphold our values for every story published.