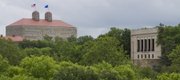 Subscribe to the email edition of Heard on the Hill and we'll deliver you the latest KU news and notes every weekday at noon.
Your daily dose of news, notes and links from around Kansas University.
• First on the docket today is a fraternity-sorority housing shuffle.
Alpha Gamma Delta sorority's international organization has purchased a house previously used by Phi Kappa Tau fraternity at 1100 Ind.
The house will be used as the house for the Alpha Gamma Delta sorority's KU chapter, said Jill Harter, director of communications and marketing for the international organization.
The facility, which can accommodate about 50 residents, is undergoing some renovations and will be ready by August, she said.
The sorority chapter did not previously have its own official house, but several members had been living together in one place, Harter said.
Others were living in several other off-campus locations throughout the city.
Meanwhile, members of Phi Kappa Tau will move to two six-bedroom rental houses near 17th and Louisiana streets, said Riley Dunn, who served as the fraternity's president last year. The houses are at 1732 and 1736 La.
Phi Kappa Tau fraternity purchased the house in 1996. The house has also served as the home for Acacia fraternity, which had its charter revoked in December 1992.
Alpha Gamma Delta previously owned a house at 2005 Stewart Ave. near 19th and Iowa streets, which had most recently been home to Lambda Chi Alpha fraternity before being torn down last September.
Neither organizations' officials disclosed financial terms of the deal.
• A KU alumna who has made Forbes magazine's list of the top 100 most powerful women in the world has been elected to the board of directors for the Marathon Oil Corp.
Linda Z. Cook earned a degree in petroleum engineering from KU in 1980 and went on to become an executive at the Royal Dutch Shell company. She retired from the company in 2009.
She was executive director of Shell Gas and Power from 2004 to mid-2009 and was responsible for Shell's natural gas and power business.
She also serves as a KU Endowment trustee.
• KU's successful department of public administration has a new name — the School of Public Affairs and Administration, KU said in a release last week.
No restructuring will be necessary, as the department already functioned much like a school, the release noted. It will remain in the College of Liberal Arts and Sciences.
Marilu Goodyear will continue to lead the school as its director.
The whole thing sounds a little like the School of the Arts, which also exists in the College of Liberal Arts and Sciences, but is led by an associate dean.
The new designation has the unanimous support of the program faculty, Provost Jeff Vitter and the Kansas Board of Regents.
• Heard on the Hill is a fine name, thank you very much. And I think we'll keep it around a little longer. I mean, "Submit your tips for Heard on the Hill at ahyland@ljworld.com" just rolls right off the tongue, doesn't it?
Copyright 2017 The Lawrence Journal-World. All rights reserved. This material may not be published, broadcast, rewritten or redistributed. We strive to uphold our values for every story published.