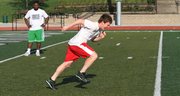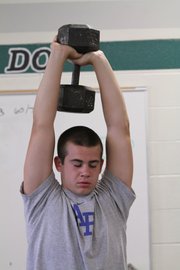 Sports might be 90 percent mental, but a smart player who is not in condition won't even make it onto the field.
That's why high schools across Kansas, including Free State and Lawrence high schools, are hosting summer sports workouts in preparation for the fall.
Starting at 7 weekday mornings since May 31, Free State football players have been weightlifting, preparing for their first game on Sept. 2 against Olathe South. At 8 a.m., after weights, the team heads outside for a run and conditioning.
Head football coach Bob Lisher said the summer workouts are not required, but are "highly recommended" and the majority of the team shows up each day.
Lisher said he started conducting summer workouts 18 years ago when he was coaching at Lawrence High School.
"They are more ready for the season because they are already accustomed to the hot summer heat and come into the first practice faster and harder than they normally would have without the use of a summer workout program," Lisher said.
He added that when the players return to practice they are more motivated because they are bigger and stronger than they were the year before.
At Free State, the Firebirds hope the summer workouts will help them improve on last season's 5-5 record.
"They push you hard to succeed, but that's what it takes to be a good athlete," said Ryan Patterson, a senior wide receiver and defensive back.
Pushing the team hard in the summer might sound harsh, but it also provides health benefits.
"Lifting weights and cardiovascular drills really help lower the blood pressure and reduce the risk factors of heart disease," said Lawrence Athletic Club trainer Todd Trahan.
He added that the workouts also have a psychological benefit and ultimately "help them feel better."
The summer workouts continue until July 28, when the players get a 10-day break before the first official team practice on Aug. 15.

Copyright 2018 The Lawrence Journal-World. All rights reserved. This material may not be published, broadcast, rewritten or redistributed. We strive to uphold our values for every story published.