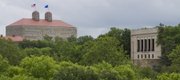 Subscribe to the email edition of Heard on the Hill and we'll deliver you the latest KU news and notes every weekday at noon.
Your post-fireworks daily dose of news, notes and links from around Kansas University.
• I heard a lot of great feedback from the first installment of the new "16 Things I've Done" series, and on my phone and email lines, too. Most of it was very positive, so thanks for that. (And I'd be remiss if I didn't thank the folks who didn't like it, too, for whatever reason. I'm glad to hear from you, too, for suggestions to make this better).
I also got a fair number of suggestions for other people to feature, which is great. Keep those coming, either in the comments or by email. I've got a few ideas of my own, of course, but I'd love to know some folks at KU you'd be interested to learn more about.
I was pleased with the way the first one came out, and am looking forward to doing some more of them.
Look for the next one in the coming weeks.
• And in the spirit of providing lists of interesting things, I give you 10 ways to help your child make friends, courtesy of Dale Walker, associate research professor of child development at KU's Juniper Gardens Project in Kansas City, Kan.
The list is geared toward preschool children, and mainly talks about how to structure a good "playdate." One to two hours is a good time limit, Walker says, to avoid overstimulation, and try initially only scheduling a time with one to two friends at your home.
Also, scheduling time with the same people on a weekly basis can be beneficial, Walker said.
There are lots of other good tips, too, if you follow the link.
• I spotted an interesting mention in the New York Times about an upcoming documentary on a chimpanzee named Nim who learned sign language back in the late 1970s.
The article mentions a connection to a man named Robert Ingersoll, who apparently became Nim's caretaker after the language experiment was shut down and the chimpanzee came to Kansas University (if I'm reading the article correctly).
UPDATE: I heard from Kathleen McCluskey-Fawcett, a KU administrator and a psychology department faculty member, who didn't recall a primate center at KU, or any connection to the famous chimpanzee.
And, as a matter of fact, it looks like the man named Robert Ingersoll is actually from the University of Oklahoma, and not from KU. Here's his Facebook page.
So even the New York Times gets one wrong every now and again, it seems.
• I hope everyone had a safe and happy Independence Day. I'm pretty sure I remember reading that on July 5, the Founding Fathers decided to celebrate their new-found independence by submitting tips for Heard on the Hill. So you should do that, too, by sending me an email at ahyland@ljworld.com.
Copyright 2018 The Lawrence Journal-World. All rights reserved. This material may not be published, broadcast, rewritten or redistributed. We strive to uphold our values for every story published.