Editor's note: This is the first in an occasional series of stories by reporter Andy Hyland, asking Kansas University staff to share "16 Things I've Done."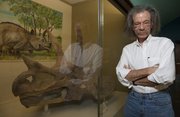 I first got the idea from a newspaper in San Diego, which went around to academics and simply got them talking about things they've done.
I wanted to do that at Kansas University, and I knew where I wanted to start: in the office of Leonard Krishtalka, director of KU's Natural History Museum and biodiversity research center.
He agreed to be the guinea pig for the idea — but was adamant that he not be treated as some kind of celebrity and that we avoid focusing on trite clichés.
"It's not about me," he said. "Focus on the big ideas."
He has helped expand the focus of the museum to include biodiversity informatics, which includes predictive aspects of the work of the museum as well as descriptive ones.
And here are 16 things he's done:
• Walked with his father under the stars in Montreal, where he was born. His father asked him how many stars there were in the sky. Knowing it to be a trick, Krishtalka said he didn't know.
"365,232,657,089," his father said. When Krishtalka asked how he knew, his father replied. "If you don't believe me, count."
• Dissected a frog with his mother on the kitchen table as part of a homework assignment while at McGill University in Montreal.
"There is this huge diversity of life, and there is a pattern to this diversity," he said. "These were wondrous patterns I wanted to understand."
• Dropped out before he failed his third year at McGill. He entered at 16 and found that the movie theater down the street from the university showed three movies a day. He wasn't mature enough at the time, he said, and watched 15 movies a week instead of going to class.
• Worked menial jobs in Alberta for two years after that, including one in a paper mill. He came back, though, two years later, to the University of Alberta, where he discovered paleontology. He said he was "inculcated with his parents' idea that education was everything."
• Discovered a complete skull of a horned, triceratops-like dinosaur called monoclonius in Alberta. When he saw the tip of the nose horn poking out of the ground, and the base of the skull a few feet away, he knew what he had found.
• Smoked for much of his career, and rolled his own cigarettes with Drum tobacco. When he'd go out into the field, he'd never smoke a cigarette until he found the first fossil of the day. No fossils meant no cigarettes.
• Studied under Craig Black both at Kansas and Texas Tech, where Black became the director of the Natural History Museum. Black became like a mentor to Krishtalka and taught him to ask the big questions. "What does it all mean?" Black would press him to answer.
• Noticed a blue car when he first came to KU as a Ph.D. student in the 1970s that seemed to be following him everywhere. Men with suits were in the car. He wondered if they were the KBI, watching him or someone else around him for who knows what reason.
"It scared me," he said. "I had never seen anything like this in Canada."
He walked up to the men one day and knocked on their window, and told them he would be soon going to the Baskin-Robbins ice cream store. He didn't see them again after that.
• Wrote two novels, drawing on an appreciation for the role of the arts and the humanities in science. He's unpublished but is represented by a literary agent in London. One involves a paleontologist who disappears on an expedition, and another deals with cave art, he said.
• Raised two children, Zack and Molly. He said he's tried to teach them to do three things — "Be smart, question authority and kick ass."
That last one is figuratively and not literally, he's quick to add.
• Bicycled up and down Mont Ventoux in southern France in 5-degree weather. It's a mountain that's frequently featured in the Tour de France.
He did it with a cycling group, and his son, about 14 or 15 at the time, met him at the top, where he was so cold, he could barely get off his bike.
"I did it for Zack, I suppose," Krishtalka said, as part of showing him what "kicking ass" was all about.
• Traded papers with his daughter, who is in law school at McGill University. He often reads her papers. He's not allowed to edit them — he just gives feedback. She reads his op-ed pieces before they run. She's allowed to edit them.
• Been written about in Time magazine twice — once for helping to find a large fossil site in Wyoming and once for finding a part of the famous prehuman "Lucy" fossil in Africa.
"That doesn't make me a celebrity," he said. "Any fool can find fossils."
• Threw the Lucy fossil — a part of the skull about the size of a small turtle shell — like a Frisbee to another colleague, who fortunately caught it. That was not a good idea, he admits now.
• Worked at the National Science Foundation for three years, where he reviewed some of the most exciting projects that were going on around the country, and only got to fund about a third of them.
• Argued for the inclusion of the teaching of evolution in high schools when it was threatened in Kansas.
His greatest disappointment, he said, is "that people will not separate faith and belief from reason and thought."
Copyright 2018 The Lawrence Journal-World. All rights reserved. This material may not be published, broadcast, rewritten or redistributed. We strive to uphold our values for every story published.