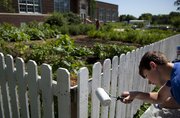 The kids brushing white paint on a picket fence at Liberty Memorial Central Middle School were starting to droop as their lunch break approached.
Others crouched to pull weeds Tuesday in the 4,000-square-foot garden on the south side of the school. All seemed satisfied to be helping an effort to support community-based agriculture: food that is locally grown, eaten and sold.
"It's a different feeling," said Louise Loats, an eighth-grader at Central. "I haven't done volunteer work a lot, but this is a lot of fun. I would definitely do it again."
The project is part of the Youth Volunteer Corps Summer of Service, sponsored by the United Way Roger Hill Volunteer Center, which will see 165 young people log more than 3,000 hours of community service this summer.
Emily Hampton, who oversaw the local food project as food systems coordinator for the Douglas County Child Development Association, also took the group to Sunshine Acres Montessori School to work on a garden and teach younger kids plant basics.
"We want to expose them to local food and get them in healthy habits at a young age," she said. "It's also about empowering them to become self-sufficient and grow their own food so they're not depending on people who live far away."
Having 'a hand in it'
The DCCDA is touting the benefits of locally grown food, which go beyond health and environmental considerations to keeping money spent on food within the local economy. Ashley Graff, the association's food systems educator, said kids who play an active role in growing their own food are more likely to make healthy food choices.
"They have a hand in it, so they're excited about that," she said.
Liberty Memorial Central Middle School's garden is now 10 times its former size, after an expansion funded by a $6,000 grant from Live Well Lawrence, an initiative of the Douglas County Community Foundation. It holds squash, zucchini, tomatoes, cucumbers and a variety of other produce.
Student volunteers help manage the garden several days a week during the summer and then take their produce to the downtown farmers' market on Thursday afternoons, even deciding how to price their food.
"Sometimes it's kind of hard to get them up first thing in the morning," said Laura Leonard, the school's garden coordinator. But like most adolescents, they'll do whatever their friends are doing, even if it's work. "You just have to know how to work the social aspect of it," she said.
The proceeds from market sales are reinvested in the garden. This fall, it will even stock the school's salad bar. Loats admitted some of her classmates don't want the image of being veggie-eaters, but she thinks others will catch on.
"Some people here don't like vegetables because they're immature," she said.
Other service projects
The garden project is just one of many during the Summer of Service. Youth volunteers have already cleaned up a campground, completed environmental projects at the Prairie Park Nature Center and served meals to seniors.
There is a waiting list for volunteer slots on each of the remaining projects, including rehabilitating animals with Operation WildLife, building a sensory trail for therapeutic horseback riding for youths with disabilities and helping with children's summer programs.
One day last week, youth volunteers served lunch at the Lawrence Interdenominational Kitchen (LINK). The group stocked shelves with canned food and cleaned the basement of First Christian Church, where LINK serves hundreds of people each week.
"Many people in the community can't afford food," said Hayden Ponzer, 12, one of the volunteers. "It seems like since I have a good life, I should help out people whose life is not so good."
Copyright 2018 The Lawrence Journal-World. All rights reserved. This material may not be published, broadcast, rewritten or redistributed. We strive to uphold our values for every story published.