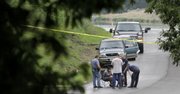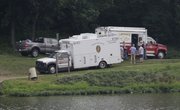 The search for the missing 7-year-old ended Sunday morning at Lone Star Lake after Douglas County search and recovery divers found the body about 8:30 a.m.
Sgt. Steve Lewis, a Douglas County Sheriff's spokesman, identified the boy as Osiris M. Lumanyika. His parents are Clement Lumanyika, father, and Rashi Edmond.
A diver found the body outside a dock separating the shallow water near the beach from the rest of the lake, according to Lewis.
Check back with LJWorld.com for updates.
Copyright 2018 The Lawrence Journal-World. All rights reserved. This material may not be published, broadcast, rewritten or redistributed. We strive to uphold our values for every story published.