Photo Gallery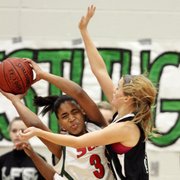 Free State girls vs. Highland Park
Free State High's Kennedy Kirkpatrick always seems to be smiling on the court.
And if Thursday night's game is any indication, the sophomore is right at ease even with the game on the line.
Kirkpatrick sunk four free throws in the game's final minute, including a pair with 5.4 seconds remaining, to propel the Firebirds to a 53-50 win over Highland Park in their opening game of the 11th Firebird Winter Classic at FSHS.
"I just went up there and (told myself) I needed to have confidence to knock them down," Kirkpatrick said.
In the game's waning seconds, Kirkpatrick — who led the way with 16 points, six assists and four rebounds — pulled down a late miss and was fouled on the ensuing inbound play with FSHS on top, 51-50.
A big smile still on her face, she calmly stepped to the line and hit the first, before coach Bryan Duncan called a quick timeout to draw up a final defensive play.
"I literally asked her, 'Kennedy, can I freeze you?'" Duncan joked after the game.
The timeout didn't faze Kirkpatrick, who was a perfect 6-for-6 from the line, as she sunk the following free throw and Brajaun Carr missed a desperation three at the buzzer.
"Coaching is easy when you have kids who can make free throws like that late in the game," said Duncan of Free State's 15-for-24 output from the line.
It was apparent early that the back-and-forth game would be a close one, as the Firebirds carried a 25-21 lead to the break after a scrappy, foul-laden first half.
The long, athletic Highland Park (7-3) forwards, led by Shanise Brooks (18 points, seven rebounds), hurt the Firebirds most on the offensive glass and in the paint, where they drew double-digit fouls in each half.
The 6-foot-1 Brooks could have done more damage were it not for a strong defensive effort by 5-foot-9 Abbey Casady (five points, four rebounds).
The second half featured more of the same, and though they were still plagued by foul trouble, the Firebirds committed only two turnovers after the break.
"I do think our defense carried us tonight," Duncan said. "And we made good decisions with the ball in the second half."
While the Scots mainly scored from the free throw line, where they were only 15-of-30 for the game, the Firebirds hit several big baskets down the stretch, including layups from juniors Jackie Garcia (12 points) and Lynn Robinson (11 points).
"We knew it was going to be a tough game from the start," Kirkpatrick said. "But we just had to pull through and win as a team."
Courtesy of some timely defense, rebounding, and Kirkpatrick's eight fourth quarter points — none bigger than her game-icing free throws — the Firebirds (6-4) advance to play Shawnee Heights at 8:15 tonight.
Heights defeated the Firebirds, 51-35 on Dec. 10, 2010, at FSHS.
"You want to be on the right side of the bracket any way you can get there," Duncan said. "Because that's where it gets fun, and that's where you're really playing for something."
Box score
Highland Park 50, Free State 53
HIGHLAND PARK (50)
Delores Smith 0-4 0-0 0, Brajaun Carr 2-5 2-4 7, Mikky Johnson-Grant 1-6 6-15 8, Devyn Edwards 3-6 4-5 13, Shanise Brooks 6-14 3-7 18, Ashley Lutz 2-6 0-0 4, Brianna Roberts 0-1 0-0 0. Totals: 16-41 15-30 50.
FREE STATE (53)
Abbey Casady 2-4 0-2 5, Jackie Garcia 3-7 6-8 12, Kennedy Kirkpatrick 5-11 6-6 16, Lynn Robinson 4-8 2-2 11, Chelsea Casady 1-4 1-2 3, Scout Wiebe 0-1 0-0 0, Alexa Gaumer 0-0 0-0 0, Kionna Coleman 2-3 0-4 4, A'Liyah Rogers 1-1 0-0 2. Totals: 18-38 15-24 53.
HP – 9 12 11 18 – 50
FSHS – 9 16 11 17 – 53
Three-point goals: Highland Park 3-6 (Carr, Edwards, Brooks); Free State 2-10 (A. Casady, Robinson). Fouled out: Free State – A. Casady. Shooting: Highland Park 16-41 (39 percent); Free State 18-38 (47.3 percent). Turnovers: Highland Park 15, Free State 12.
Copyright 2018 The Lawrence Journal-World. All rights reserved. This material may not be published, broadcast, rewritten or redistributed. We strive to uphold our values for every story published.