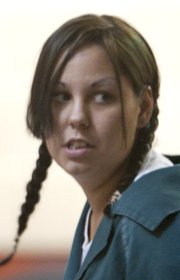 A Douglas County judge has sentenced a rural Topeka woman to serve three years on probation for her involvement in an October shooting outside of a Lawrence apartment complex.
Chief Judge Robert Fairchild handed down the sentence Friday morning to Ashley Halstead, 22, after attorneys for both sides said Halstead had abided by certain stipulations while she was out on bond.
"We believe she is not a danger to society," defense attorney Greg Robinson said.
Halstead had pleaded guilty in December to two counts of conspiracy to commit aggravated robbery. Prosecutors had accused her and three other Topeka residents of participating in a scheme to rob two men in Lawrence. One of the Lawrence men was shot on Oct. 11 in the 2500 block of Redbud Lane.
Christopher Bush, 20, the man prosecutors accuse of pulling the trigger, has already pleaded no contest to charges of aggravated battery, conspiracy to commit aggravated robbery and attempted aggravated robbery. He is scheduled to be sentenced on Feb. 15.
Desmond J. Jackson, 19, of Topeka, who was accused of driving a vehicle away from the shooting, pleaded no contest Monday afternoon to two counts of conspiracy to commit aggravated robbery. His sentencing is scheduled for March 3.
The fourth defendant, Rylie Musik, 18, has a trial scheduled for April 6. Her attorney has said she had no knowledge of the plan.
Fairchild said if Halstead is found to violate terms of her probation she faces a sentence of two years and eight months in prison.
Copyright 2018 The Lawrence Journal-World. All rights reserved. This material may not be published, broadcast, rewritten or redistributed. We strive to uphold our values for every story published.