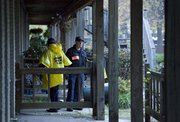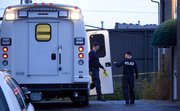 Redbud Lane Shooting
Topeka police officers arrested a man after a three-hour standoff in Topeka in connection with Monday's early morning shooting outside an apartment complex on Redbud Lane in Lawrence.
Topeka Police Lt. Dave Thomas said the Lawrence police asked for help in locating suspects in the incident, who they believed were at 2312 SE Virginia St.
"Based on information they had, they believed some or all of the persons involved could be at this location, so we went ahead and assisted them on a search warrant," Thomas said.
Police arrived on the scene about 3 p.m. Monday and negotiated with the man, who was not identified as of Monday night, until shortly after 6 p.m.
"We had ceased trying to talk to the individual in the house and were waiting on the warrant," Thomas said. "Once we all did arrive and replace those officers on the scene with the Response Team the subject came out on his own."
Thomas said several other subjects were taken into custody in connection with the arrest.
Lawrence police declined to confirm that the arrests related to Monday's shooting, which sent a Lawrence man to a Kansas City-area hospital via air ambulance. The 28-year-old underwent surgery but his condition was unknown Monday night.
Officers spent the day following leads into who shot the 28-year-old man, who was found wounded at 4:40 a.m. in a parking lot outside Park Plaza South Apartments in the 2500 block of Redbud Lane.
Sgt. Matt Sarna, a Lawrence police spokesman, said detectives were continuing to investigate but the lack of apparent witnesses was making it difficult.
"There aren't a lot of people who are awake at that time in the morning," Sarna said.
Darrell Thompson was asleep in the apartment complex when the shooting happened.
"I heard a gunshot, and then I heard someone say 'ugh.' I thought it was the TV," he said.
Thompson said the wounded man was taken on a stretcher from the corridor between the two apartment buildings.
Jon Clark, who lives in the apartment complex, said he arrived home from his newspaper delivery route Monday morning to find police in the area. Clark said he, his wife and his daughter have lived there since February.
"It makes me feel pretty uncomfortable about living here," Clark said. "Obviously we've got a child, and I don't want to raise my kids around anything like that."
Sarna said officers do their best to patrol the area because it includes so many apartments and people living close together.
"We do try to put extra patrols out here, but with our call load and everything else, there's only certain times that officers can be out in the areas and canvassing them," Sarna said.
Police ask anyone with information about Monday morning's shooting to call detectives at 785-830-7430 or Crime Stoppers at 785-843-TIPS.
Copyright 2018 The Lawrence Journal-World. All rights reserved. This material may not be published, broadcast, rewritten or redistributed. We strive to uphold our values for every story published.