Photo Gallery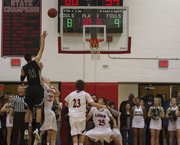 LHS boys vs. Free State
Free State High junior Georgi Funtarov said he never had played in front of as many people in Europe as he did Tuesday at Lawrence High.
Everyone who packed in the Jungle for this season's first edition of the City Showdown certainly will remember Funtarov's big play on the big stage.
Funtarov's jump hook with six seconds to go put the Firebirds up a point. Lawrence quickly inbounded the ball, but junior Logan Henrichs' contested layup slipped off the rim, giving Free State the 61-60 victory.
Firebirds coach Chuck Law said his team had tried to run the play that set up Funtarov's shot all game long. His players executed it in the final seconds, but they nearly lost the game on the other end.
"The problem is, we got a little celebratory after the basket and forgot to get our backsides back on defense," Law said.
Henrichs raced up the floor past the slacking Firebirds, launching a contested layup as the final seconds ran off. The ball banked off the glass and sat on the rim before bouncing off as the buzzer sounded.
Henrichs and junior KJ Pritchard sat in the corner of the court, wondering how the shot didn't fall.
"You could have timed that ball with a sundial with how long that hung on the rim," Law said.
Free State senior Eric Watson, who finished with a game-high 19 points, said he thought the game was over when Henrichs took the shot.
"I know this is the last time that we're going to play in the Jungle, and it just means everything to us," Watson said.
It would have been hard to see Funtarov's heroics coming late in the first half. After an athletic follow-up dunk, Funtarov hung on the rim for too long, drawing a technical foul and the ire of Law.
"I need to learn some rules in the U.S.A.," said Funtarov, a transfer student from Bulgaria. "It's a little bit different in Europe."
At halftime, Law let Funtarov know that he was upset with the theatrics after the play. The dunk gave Free State a two-point lead late in the half, but Lawrence ended the half with a 8-2 run, capped by an Anthony Buffalomeat three-pointer at the buzzer. Law was especially frustrated because it swung the momentum back to Lawrence, which took a 33-29 lead into the break.
"George got a tongue-lashing at halftime like he hasn't gotten the whole time he's been here," Law said. "We've probably been a little too generous with him, truth be told. He's got a lot of ability, but he's used to getting away with a lot of things."
Law, who had declined to comment on his team Monday in order to keep plans under wraps, said Funtarov learned from the mistake and played a good second half.
Lawrence coach Mike Lewis was proud of his team's effort, especially with how his players pushed the ball right back at Free State after Funtarov's go-ahead goal.
"Punch for punch, we were there. We just had that ball sit on the rim at the end, and it's gut-wrenching," Lewis said.
The Lions (4-9) took a 60-59 lead with 18 seconds left on a Pritchard three-pointer from the left wing. Free State (7-5) called a timeout to set up its final play.
Lewis said the Lions won't forget the loss, or the way they lost.
"I think everybody will have a little something in their back pocket, or on their mantle in their bedroom," Lewis said, "a little something there motivating them for that end-of-the-season game."
Both coaches loved the environment, in which both student sections were rowdy from the opening tip. Law challenged the Free State fanbase also to come out to games when the Firebirds aren't playing the Lions.
Still, it was clear Law was thrilled with his players' performance.
"That's a gut check, and we got a win, and in the end that's all that matters," Law said.
Box score
FREE STATE (61)
Shawn Knighton 2-4 3-8 8, Austin Hoag 1-2 0-0 2, Eric Watson 7-14 5-6 19, Alec Heline 6-8 2-5 16, Evan Manning 2-7 0-0 5, Brett Frantz 2-3 0-0 4, Georgi Funtarov 2-5 0-4 4, Tyler Self 1-2 0-0 3. Totals 23-45 10-23 61.
LAWRENCE (60)
KJ Pritchard 5-16 5-5 17, Shane Willoughby 2-6 1-2 5, Anthony Buffalomeat 6-8 2-3 16, Logan Henrichs 4-9 0-0 9, Jake Johnson 1-1 0-0 2, Garrett Wagner 3-4 0-1 6, Brad Strauss 1-3 0-1 3, Derby Miller 1-2 0-1 2. Totals 23-49 8-13 60.
Free State 13 16 19 13 — 61
Lawrence 11 22 15 12 — 60
Three-point goals: Free State 5-14 (Heline 2, Knighton, Manning, Self); Lawrence 6-15 (Pritchard 2, Buffalomeat 2, Henrichs, Strauss). Shooting: Free State 23-45 (51.1 percent); Lawrence 23-49 (46.9 percent). Turnovers: Free State 12, Lawrence 14.
Copyright 2018 The Lawrence Journal-World. All rights reserved. This material may not be published, broadcast, rewritten or redistributed. We strive to uphold our values for every story published.