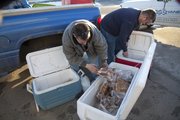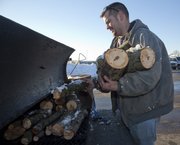 Chris Chambers said that for all the money they spend, the time it takes to cook the barbecue and the miles logged in travel, sometimes the best reward is standing around.
But don't be so quick to knock standing around — it's not so bad with three buddies, a beer in hand and some tasty meat grilling nearby.
The four members of the Crimson and Blue BBQ Crew —Tim Flory, Chambers, Bill Walker and Jeremy Douglas — loaded up a rented RV and left town Tuesday for Lakeland, Fla., where they'll put their chicken, pork, ribs and brisket up against competitors from across the country in the Lakeland Pig Fest competition.
Flory, Chambers and Walker all work together at Chaney Inc., and Douglas is Flory's brother-in-law.
Flory, who everyone seems to agree is something like the ringleader of the group, proudly points out the team is ranked in the top 100 teams in the country.
"One of the things that drives me in this deal, we actually have a chance to be one of the best at this in the world, you know," he said.
Chambers, helping to load up the RV in the Chaney Inc. parking lot near 27th Street and Haskell Avenue, said winning — which he admitted was pretty fun to do — was mostly about getting some luck.
He also likes involving his family — though this time, the four men will travel alone, in many of the team's other 17 or 18 competitions per year, Flory said his wife will help cook desserts, and his children can compete in separate kids' competitions.
The team had adjusted their strategy for the competition in Florida — they like their barbecue a little less sugary than in the Kansas City area, something between the hot-enough-to-blow-you-away stuff in Texas and the mustard-and-vinegar stuff in Memphis, Flory said.
"Ninety percent of it is getting good cuts of meat and getting it tender," Chambers said, adding that the team's meat comes from Arrowhead Meat Co. in North Kansas City, Mo. "If you've got to gnaw on it like a boot, you're not going to like it."
Copyright 2018 The Lawrence Journal-World. All rights reserved. This material may not be published, broadcast, rewritten or redistributed. We strive to uphold our values for every story published.