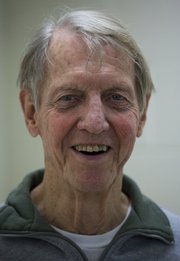 A retired engineer is looking to take his problem-solving skills to the Lawrence school board.
Bill Roth, a resident of rural Lawrence, filed Monday as a candidate for school board, on which four seats are up for election April 5.
Roth, 77, is a member of the Science Committee at Wakarusa Valley School, which has been working to increase awareness and excitement about math and science among students.
He'd like to see such programs serve not only Wakarusa Valley, but the district as a whole.
"We must all remember that the primary function for our schools is to educate every kid," Roth said. "Our children are (and) will be competing in a global economy. When one of our school system's graduates apply for a job or to a college, an interviewer's ears should perk up when they hear, 'I went to school in Lawrence.' "
Roth spent 24 years in the Air Force, including stints as an instructor for jet pilots, project manager and staff officer responsible for planning and budgeting. He later spent 10 years as a systems engineer for Lockheed Martin, working on satellite systems and the space shuttle program.
Before moving to rural Lawrence five years ago, he raised cattle on a farm and ran an air charter and flight-training operation.
He earned a bachelor's degree from the U.S. Military Academy at West Point, N.Y., and a master of business administration from the University of Southern California.
Also filing as candidates Monday were Ola Faucher and Rick Ingram.
The filing deadline for candidates is noon today at the Douglas County Courthouse, 1100 Mass.
Copyright 2018 The Lawrence Journal-World. All rights reserved. This material may not be published, broadcast, rewritten or redistributed. We strive to uphold our values for every story published.