Photo Gallery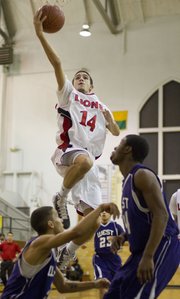 Lawrence High boys vs. Topeka West
Junior Anthony Buffalomeat missed his first shot and finished with no points in Friday's loss.
In Lawrence High's 55-38 victory over Topeka West on Saturday, Buffalomeat made his first shot and finished with 21 points.
Maybe the fact that he played so well after making his first shot isn't a total coincidence.
"I think when shots fall for him, that really fuels his fire, like any high school kid," LHS coach Mike Lewis said. "Sometimes they let the shots affect them too much."
The Lions finished in seventh place at the Topeka Invitational Tournament for the fourth time in 46 years. Against the Chargers' mix of man-to-man and 2-3 defense, the Lions valued their possessions, often making more than 10 passes before taking a shot.
In a timeout early in the third quarter, Lewis told his players they needed to make at least five good passes before they could shoot.
"And that doesn't mean we jack it on the sixth," Lewis said.
That way, the Lions could force the defense to work. By stretching the Chargers defensively, Buffalomeat and other Lions found open driving lanes to the basket.
LHS also was energized defensively, forcing 16 Charger turnovers out of an attacking 2-3 zone. Lewis said he thought his team's intensity on defense created easy opportunities in transition.
Lewis said he thought his team played three solid games in the tournament but was plagued by a couple of bad quarters. The Lions didn't make a field goal in the fourth quarter of Thursday's 50-46 loss to Wichita East or in the second quarter of Friday's 50-39 loss to Highland Park.
The Lions scored more than 10 points in each quarter Saturday, opening a nine-point lead after the first quarter and cruising to the 17-point victory.
Several Lions were named to the tournament's All-Academic Team: seniors Trent Edwards, Ross Johnson and Garrett Wagner; juniors Buffalomeat and Troy Willoughby; and sophomores Brad Strauss and Shane Willoughby.
Senior Jake Johnson just missed the 3.5 grade-point average cutoff with a 3.48.
In Lewis' program, the coaching staff stresses that family and school are more important than basketball.
"Those are good reminders when you can see the guys out there with their plaque," Lewis said.
The win also gives the Lions some confidence heading into Tuesday's game against Free State at LHS. Tipoff is scheduled for 7 p.m.
"For our guys to step up and play with the energy they did today, I'm very proud of that," Lewis said. "I'm hoping that momentum carries into Tuesday."
Copyright 2018 The Lawrence Journal-World. All rights reserved. This material may not be published, broadcast, rewritten or redistributed. We strive to uphold our values for every story published.