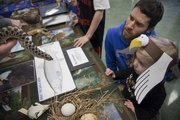 Lawrence 11-year-old Alex Baldwin was trying to solve a mystery Saturday morning: what — or who — did the owl cough up?
A mole? A mouse?
Probably a rat, Alex said as he sifted through the owl pellet, comparing the mixture of bones he found with the fossil drawings of various vermin.
The activity was just one of dozens for families Saturday who visited the 15th Annual Kaw Valley Eagles Day at Free State High School, 4700 Overland Drive.
The goal of the day's event was to get kids interested in nature, said Joyce Wolf, event organizer and Jayhawk Audubon Society member.
"It's an opportunity for kids to experience nature first-hand," said Wolf of the event, which was organized in conjunction with the U.S. Army Corps of Engineers.
Several live birds sat perched on the arms of staff members from the Prairie Park Nature Center and entertained guests.
Jen Rader, a naturalist at Prairie Park, told groups of visitors about the companion on her arm, "Edgar," a very social American crow that sometimes says "hello," but on Saturday only spit out "kaw, kaw, kaw."
Live birds were among the many exhibits scattered around the building, ranging from conservation techniques to honey bees to nature-based arts and crafts.
Erin Lawrence could barely keep up with her 2-year-old twins, Abby and Elise. The sisters bounced between exhibits, mom following a few steps behind. Even at their young age, they've become quite the bird enthusiasts and could name just about every species at the event.
"They totally just love birds," Lawrence said.
Copyright 2018 The Lawrence Journal-World. All rights reserved. This material may not be published, broadcast, rewritten or redistributed. We strive to uphold our values for every story published.