Photo Gallery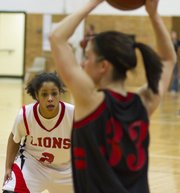 Lawrence High girls vs. Emporia
The Emporia High girls defeated Lawrence High, 44-29, on Jan. 21, 2011, in Lawrence.
What's been troubling the Lawrence High girls basketball team isn't based in skill or game plan.
The problem, as identified by the Lions, has been hitting the floor ready to play.
An early lack of effort once again did in the Lions on Friday night, as they couldn't rebound from a slow start in a 44-29 loss to Emporia at LHS.
"Unfortunately it's kind of been our story all season," Lawrence coach Nick Wood said.
Senior Emily Peterson led the way with15 points off the bench and fellow senior TaMiya Green added 12 points and eight rebounds. That was about the extent of the LHS offense.
Junior Brianna Anglin scored the only other bucket for the Lions (3-6), who shot 28.5 percent.
Bothered somewhat by the lengthy, active Spartan defenders, the Lions were slow to start on offense, and trailed, 13-6, after one quarter and 30-10 at the half.
The Spartans dominated the glass in the half, collecting 10 rebounds on the offensive end alone, and methodically passing their way through a variety of LHS defensive looks.
"I think we had to have more effort in the beginning and we didn't give that," Green said.
To begin the second half, the Lions came out a vigorous, scrappy bunch, and though they outscored the Spartans, 19-14, after the break, the lead was too large to overcome.
"It's easy to give really good effort when you're down and there's no pressure on you," Wood said. "But we've got to find a way to give that energy when the ball is tipped and when everything is on the line, not just when it's comfortable."
The Spartans, while patient on offense in the first half, were content to pass the ball and work the clock.
The Lions didn't blame the lack of a shot clock for Friday's setback.
"I think if we had more (possessions) we probably would have done better," Green said. "But getting a better start is what we really needed to do."
Box score
Emporia girls 44, Lawrence High 29
EMPORIA (44)
Taylor Elbe 2-9 0-1 5, Sarah Kolmer 2-8 0-0 4, Courtney Waldner 2-5 1-1 5, Ciera Hastings 5-11 0-0 12, Emily Burris 1-1 2-3 4, Megan McRell 4-9 5-6 14, Bailey Sosa 0-1 0-2 0, Angela Bartley 0-1 0-0 0. Totals 16-45 8-13 44.
LAWRENCE (29)
TaMiya Green 5-10 2-5 12, Krista Cosa 0-4 0-0 0, Kristen Bell 0-2 0-2 0, Christina Haswood 0-3 0-0 0, Brianna Anglin 1-1 0-0 2, Brittany Ray 0-2 0-0 0, Kelsey Broadwell 0-2 0-2 0, Sami Johnson 0-0 0-0 0, Emily Peterson 4-8 7-8 15, Natalie Wilkins 0-1 0-0 0. Totals 10-35 8-16 29.
Emporia 13 17 10 4 — 44
Lawrence 6 4 9 10 — 29
Three-point goals: Emporia 4-10 (Hastings 2, Elbe, McRell); Lawrence 1-3 (Peterson). Fouled out: Lawrence — Broadwell. Shooting: Emporia 16-45 (35.5 percent); Lawrence 10-35 (28.5 percent). Turnovers: Emporia 8, Lawrence 16.
Copyright 2018 The Lawrence Journal-World. All rights reserved. This material may not be published, broadcast, rewritten or redistributed. We strive to uphold our values for every story published.