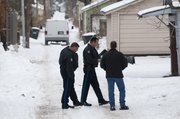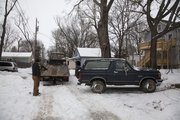 The body of a 58-year-old Lawrence woman was discovered Saturday morning in a vehicle in the 800 block of Tennessee Street, according to Lawrence police.
Sgt. Michael McLaren said there were no signs of foul play, though an autopsy will be performed on the body.
A call was made to emergency dispatchers around 8:20 a.m. Saturday reporting the body, which was found in a dark blue, late-model Ford Bronco. The Bronco was parked in the driveway of a residence in the alley behind Tennessee Street, though McLaren said the deceased was not living at the home.
Police had portions of the alley closed off for several hours. Around 12:30 p.m., the Bronco was towed from the scene.
McLaren said no other details were available at this time.
Copyright 2018 The Lawrence Journal-World. All rights reserved. This material may not be published, broadcast, rewritten or redistributed. We strive to uphold our values for every story published.