Photo Gallery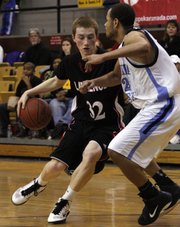 Lawrence High boys vs. Wichita East
Topeka — Lawrence High coach Mike Lewis knew the Lions had to slow down Wichita East in order to have a chance to win.
And by using a 2-3 zone and keeping the ball in their possession as long as possible, the Lions found themselves up five early in the fourth quarter.
But the same shots that fell in the first quarters just wouldn't fall in the fourth, and the Aces squeaked out a 50-46 win in the first round of the Topeka Invitational Tournament at Topeka High School.
"The story of our season — we really need to finish," Lewis said.
The Lions didn't score a field goal in the fourth quarter, settling for six points on free throws. Several shots went in and out of the rim. A layup by junior Anthony Buffalomeat was halfway down before slipping out.
"It's frustrating," junior Logan Henrichs said. "You hit them early and you ask yourself, 'Why didn't they fall now?'"
Down three with under a minute to go, Henrichs drove to the basket, but missed a short shot. A mad scramble for the rebound ensued, and a jump ball gave Wichita East the possession. Ja'In Williams hit one of two free throws to give the Aces a two-possession lead.
"Towards the end there we had an opportunity to hit a few shots, and we didn't," Lewis said. "But I'm proud of the way our guys competed."
Lawrence High (3-7) jumped out to an early 7-2 lead in the game, which started about 20 minutes late because Wichita East's bus had mechanical issues on the snowy roads. The Lions warmed up, cooled down and then warmed up again before the tipoff.
Lewis said he could think of a couple ways to handle that situation, inferring that the team is ultimately responsible for getting to the gym on time.
"I kind of felt like I was on their schedule. And that's not a real good feeling," Lewis said.
But the odd start didn't affect the Lions much. Behind seven points from Henrichs, LHS led 16-13 at the end of the first quarter.
Wichita East, known to push the ball in transition whenever possible, seemed stymied by the Lions' zone, often settling for off-balance outside shots or turning the ball over. When the Lions had the ball, they valued the possession and took all the time they wanted to find an open shot.
At the end of the third quarter, the Lions held a 40-37 lead behind hot shooting from junior KJ Pritchard, who finished with 20 points. Though they picked up defensive stops late, they just couldn't score enough to hold off the Aces.
Lewis said the team really wanted to play in tonight's 8:30 game in front of an expected large crowd in "The Dungeon," the nickname for Topeka High's gymnasium, a unique venue with very little room around the court and nearly vertical stands.
It's also the 50th anniversary of the Topeka Invitational Tournament, so Topeka residents are also expected to pack the gym this weekend.
Instead, the Lions will take on Highland Park (7-2) from Topeka at 5 p.m. The Scots, winners of the tournament in 17 of 49 years, will likely draw a big hometown crowd even after losing to Olathe South on Thursday.
The Lions have been in this position before, losing their first game of the Blue Valley Shootout earlier this season. They went on to win their final two games on the consolation side of the bracket.
Box score
Wichita East 50, LHS 46
LAWRENCE (46)
KJ Pritchard 7-20 3-4 20, Shane Willoughby 0-2 0-0 0, Anthony Buffalomeat 2-8 4-4 8, Logan Henrichs 6-11 2-4 15, Jake Johnson 0-2 1-4 1, Garrett Wagner 1-5 0-0 2, Ross Johnson 0-0 0-0 0, Brad Strauss 0-0 0-0 0. Totals: 16-48 10-16 46.
WICHITA EAST (50)
Jalen Love 3-7 1-3 7, Ja'In Williams, 3-7 3-5 10, Nathan Jackson 3-9 5-6 11, RJ Melbert 5-6 0-1 10, Ronnie McFann 2-4 1-2 5, Larry Dennis 2-2 1-1 5, CJ Graham 0-2 0-2 0, Deshawn Terrell 0-1 0-0 0, Derrien King 1-1 0-0 2, Justin Johnson 0-1 0-0 0. Totals: 18-40 11-20 50.
Lawrence 16 11 13 6 — 46
Wichita East 13 16 8 13 — 50
Three-point goals: Lawrence 6-16 (Pritchard 5, Henrichs); Wichita East 2-6 (Love, Williams). Fouled out: Lawrence — J. Johnson. Shooting: Lawrence 16-48 (33.3 percent); Wichita East 18-40 (45 percent). Turnovers: Lawrence 13, Wichita East 12.
Copyright 2018 The Lawrence Journal-World. All rights reserved. This material may not be published, broadcast, rewritten or redistributed. We strive to uphold our values for every story published.