Maj. Gen. Gary Patton doesn't mince words about the importance of his mission to properly train the police and army in Afghanistan.
"In a nutshell, that's our ticket home," he said in a recent Skype interview from Kabul, Afghanistan. "That's how we view our mission."
Patton said that even today he draws on skills he picked up while studying for a master's degree in journalism at Kansas University, where he graduated in 1990.
The general recalls fondly his times at KU and maintains several friendships in Lawrence and the area.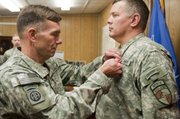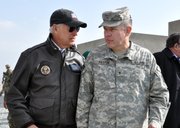 He is second in command of the NATO Training Mission—Afghanistan, where he reports to Lt. Gen. William Caldwell, former commanding general of Fort Leavenworth.
Patton is the deputy commander in charge of training the Afghan army. On Saturday, he was promoted in rank to major general by Gen. David Petraeus, International Security Assistance Force Commander, at Camp Eggers in Kabul, Afghanistan.
He said the mission is a challenging and multifaceted one. Given the large volume of soldiers that need to be trained, the U.S. Army has ranks as low as privates training Afghan soldiers how to shoot rifles, Patton said.
The Afghan soldiers' needs are varied; many are illiterate and need to be taught how to read and write. Others have other basic needs, like eyeglasses. After all, Patton said, you can't shoot what you can't see.
Patton said he has no specified ending date to his tour of duty.
"I'm here until we get the job done," he said.
Paul Jess, a retired KU journalism professor, said he remembered Patton as an incredibly bright student, and one whom other students admired and respected.
"I've had students who were better journalists than Gary," Jess said, "but not students who were better human beings."
One of his friends and classmates, Steve Buckner of Lawrence, remembered how Patton seemed to understand ideas easily in class, despite coming from a vastly different background than most other students.
"He grasped the concepts quite easily," Buckner said.
Patton graduated from West Point in 1979 and from KU with his master's degree in journalism in 1990 after the army sent him back to school to become a public affairs officer. He said the training at KU has helped him, and he still uses the Associated Press-style writing he learned in journalism courses.
"Get the most important stuff up top," he said.
Today, he still helps out his alma mater by participating in KU's Media and the Military program. Tom Volek, a KU journalism professor, administers the program and said Patton has been helpful since the two first met in Washington.
He's talked with students by videoconference about how the military gets its message out to the public, and has answered questions and given presentations to professional reporters, too, as part of the program.
"Gary has insisted that we use him, which is just amazing," Volek said.
From the time he graduated until today, Patton said he's watched the army's attitude toward the media undergo a drastic shift. Today, the army looks for reporters to embed with military units, he said, instead of shying away from coverage.
"That would've been the farthest thing from the army's mind 10, 15 years ago," he said.
And Patton hits the media circuit often, doing as many interviews as he can for major television stations, and local newspapers, too.
He said he'd particularly like to thank Americans who supported their troops, saying he sees a lot of soldiers who receive and appreciate care packages that are sent without designating a specific soldier to receive them.
"We're thankful and mindful of the support we get from the American people," Patton said. "It's just phenomenal support."
Patton — who joked he probably got in to journalism school at KU when he answered in the affirmative whether he enjoyed basketball in his initial interview to get into the school — asked about the KU men's record this year.
He hadn't checked lately, and, when told they were undefeated, he was visibly happy.
"Rock Chalk," Patton said, and waved his arms triumphantly in the air.
Copyright 2018 The Lawrence Journal-World. All rights reserved. This material may not be published, broadcast, rewritten or redistributed. We strive to uphold our values for every story published.