Photo Gallery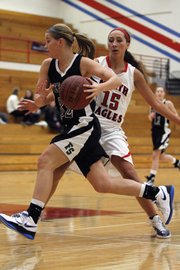 Free State girls vs. Olathe North
The Free State girls defeated Olathe North, 51-30, on Jan. 14, 2011, in Olathe.
Olathe — As it's become the hallmark of their team, it should come as no surprise that Jackie Garcia and the Free State High girls basketball team take defense pretty seriously.
Especially in practice, where Garcia and fellow captains Lynn Robinson and Paige Rothwell have made sure to push their teammates to keep the intensity high.
As Garcia explained: "The way we practice is the way we're going to play in the game."
Behind their now-customary stifling defense, Free State rolled to a 51-30 victory at Olathe North on Friday night. 
The Firebirds began the first quarter with a 24-9 barrage and, aside from a sluggish second quarter, never looked back. 
"You certainly don't put the game away in the first quarter but I think we set the tone," coach Bryan Duncan said.
FSHS, led by 13 points, six assists and five rebounds from Kennedy Kirkpatrick and 12 points from Robinson, shot only 29.8-percent for the game but controlled throughout thanks to a sound defensive effort.
The Firebirds (4-3) harassed the Eagles into 30 turnovers, repeatedly reaching into passing lanes or simply ripping the ball away from offensive players.
Of FSHS's 14 steals, Garcia had four, Kirkpatrick had three, and Robinson, Scout Wiebe and Alexa Gaumer each had two.
From there, the Firebird breakout was a blur of black jerseys running down the floor.  
"Our best offense, clearly, is transition offense," Duncan said. "But you have to play defense and be in good shape to do that."
By the end of the third quarter, a visibly aggravated group of Eagles had clearly seen enough of FSHS's defensive pressure.
The Firebirds though, were right at ease.
"It's always more fun when you're getting steals, getting layups and just frustrating the other team," said Garcia, who also scored four points and gathered eight rebounds. 
Box score
Free State girls 51, Olathe North 30
FREE STATE (51)
Abbey Casady 2-4 0-0 4, Jackie Garcia 1-5 0-2 2, Kennedy Kirkpatrick 5-16 2-3 13, Lynn Robinson 4-10 3-6 12, Chelsea Casady 2-13 2-5 7, Alexa Gaumer 1-8 0-0 3, Scout Wiebe 2-7 0-0 4, A'Liyah Rogers 2-2 0-1 4, Courney Hoag 0-1 0-0 0, Kionna Coleman 1-2 0-0 2. Totals: 20-67 7-17 51.
OLATHE NORTH (30)
Jessica Sheble 3-5 1-4 7, Kierra Carter 0-4 0-0 0, Hayley Christensen 0-3 0-0 0, Emily Haselwood 2-4 2-2 6, Sydney Serpan 3-8 1-2 7, Pamela Sales 2-5 0-0 4, Taylor Scantlin 3-4 0-1 6. Totals: 13-33 (39 percent) 4-9 30.
FSHS 24 8 12 17 — 51
ON 9 10 2 9 — 30
Three-point goals: Free State 4-19 (Kirkpatrick, Robinson, Gaumer, C. Casady); Olathe North 0-0. Fouled out: None. Shooting: Free State 20-67 (29.8 percent); Olathe North 13-33 (39 percent). Turnovers: Free State 9, Olathe North 30.
Copyright 2018 The Lawrence Journal-World. All rights reserved. This material may not be published, broadcast, rewritten or redistributed. We strive to uphold our values for every story published.