Photo Gallery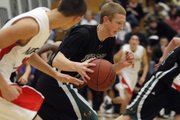 Free State boys vs. Olathe North
The Free State boys defeated Olathe North, 65-51, on Jan. 14, 2011, in Olathe.
Olathe — Free State High boys basketball coach Chuck Law was far from satisfied with a double-digit first half lead.
Even as the Firebirds were looking dominant in the first half, Law continued to bark at them, demanding that they play harder, that they not relent.
Law, who told his team in practice how great a second half team Olathe North has been this year, knew the Eagles would eventually catch fire and make a run.
O-North indeed rallied, whittling a 17-point lead down to as close as three, but the Firebirds held on, regained their edge, and pulled away for a 65-51 victory on Friday night at Olathe North.
"We talked about zero-zero at halftime, and that didn't work very well," Law said with a grin. "Maybe I'll give a different speech next time around."
Aside from a four-minute stretch to begin the second half, the Firebirds — who forced 21 turnovers and only committed five — dictated the flow of the game with defensive pressure.
"When we're attentive and paying attention to detail, we're really good," Law said. "When we lose focus and we mess up our assignments and don't communicate with one another, we break down and teams get opportunities to score like (they) did in the second half."
Junior Georgi Funtarov (21 points) and senior Eric Watson (17 points) led the Firebirds, who carried a 34-17 lead to the half mainly by irritating the Eagles with their trademark man-to-man pressure.
Watson and Funtarov each dunked in transition as FSHS continually looked to push the ball up-court after steals (16 total), missed shots and sometimes even after made baskets.
But carried by 18 points apiece from Nate Launius and Tanner Gentry, the Eagles came out the aggressor to begin the second half, and quickly the Firebirds lead was down to only three.
"We were really good in the first half defensively," Law said. "And then we kind of went brain dead for about four minutes."
Something must have flipped back on for FSHS (5-3), as the entire team chipped in with big plays to withstand the rally.
Among them, Tyler Self hit a big three-pointer, Funtarov made three big baskets and Evan Manning snatched three late steals as part of a crucial 12-4 run that helped FSHS put the game away.
"We definitely needed to turn up the energy," said Manning, who finished with five points, four rebounds and five steals. "When someone comes out and throws the first punch you've got to be able to respond."
Watson said it helped that at any given time, everyone on the floor is capable of stepping up and making a play.
"We're really comfortable," Watson said. "We have great team chemistry and it just makes our jobs easier."
While Law and the Firebirds would have preferred to control from start to finish, the end result was an improvement over some close games this season that have gone the other way.
"It was good, in a way, that we ended up in a game," Law said. "And I complimented our guys in having the resolve to not cough that thing up and fight back, and dig down and get the lead back to a comfortable margin."
Box score
Free State boys 65, Olathe North 51
FREE STATE (65)
Brett Frantz 2-6 0-0 4, Austin Hoag 3-6 1-2 7, Eric Watson 7-12 2-5 17, Alec Heline 1-4 0-0 2, Evan Manning 2-5 0-0 5, Georgi Funtarov 8-15 3-4 21, Tyler Self 1-1 0-0 3, Cameron Dabney 3-3 0-0 6. Totals: 27-52 6-11 65.
OLATHE NORTH (51)
Scott McCollam 0-3 1-2 1, Zach Downing 0-4 0-0 0, Austin Hughes 4-4 3-6 11, Nate Launius 7-9 0-1 18, Tanner Gentry 7-14 2-3 18, Jordan Bruce 1-2 0-0 3. Totals: 19-36 6-12 51.
FSHS 14 20 14 17 — 65
ON 5 12 22 12 — 51
Three-point goals: Free State 5-12 (Funtarov 2, Watson, Manning, Self); Olathe North 7-17 (Launius 4, Gentry 2, Bruce). Fouled out: None. Shooting: Free State 27-52 (51.9 percent); Olathe North 19-36 (52.7 percent). Turnovers: Free State 5, Olathe North 21.
Copyright 2018 The Lawrence Journal-World. All rights reserved. This material may not be published, broadcast, rewritten or redistributed. We strive to uphold our values for every story published.