Photo Gallery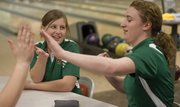 Free State Bowling Invitational
The Free State High boys and girls bowling teams both took third place in their home invitational on Thursday at Royal Crest Lanes.
Nick Conrad led the Firebirds with a 615 series. On the girls side, Michelle Schieffer had the high series with 574.
Following Conrad for the boys were Justin Walthall (603), Tre Sexton (553), Nate Feister (538), Jordan Jump (498) and Kyle Hall (478).
The other Free State girls were McKenzie Dever (494), Korie Reed (480), Alyson Butler (460), Haley Hanson (405) and Sarah Perala (352).
Topeka Seaman took first in both the events.
Copyright 2018 The Lawrence Journal-World. All rights reserved. This material may not be published, broadcast, rewritten or redistributed. We strive to uphold our values for every story published.