Photo Gallery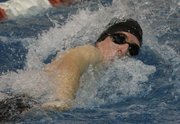 Free State Swimming Invitational
The Free State High boys swimming and diving team edged Washburn Rural by four points to win the Free State Invitational on Thursday at FSHS.
Five teams competed in the invitational, which was Senior Night for the Firebirds.
In the 100 butterfly, Free State sophomore Ben Sloan took first, and Logan Sloan took second. Freshman Canaan Campbell won the 500 freestyle, and senior Ethan Fisher took second.
The Firebirds placed first, second and third in the 100 breaststroke, with Logan Sloan, freshman Kyle Yoder and junior Noah Benham. The team also placed second, third and fourth in the 100 backstroke, with Ben Sloan, Connor Munk and Josh Saathaff.
Free State also won the 200 freestyle relay.
"It lets us know what some tough competition was going to look like," Firebirds coach Annette McDonald said.
Copyright 2018 The Lawrence Journal-World. All rights reserved. This material may not be published, broadcast, rewritten or redistributed. We strive to uphold our values for every story published.