Photo Gallery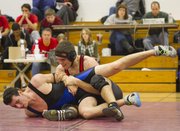 Lawrence High wrestling vs. Olathe Northwest
After the first period, junior Reece Wright-Conklin walked over to Lawrence High wrestling coach Pat Naughton and told him that he needed to end his match quickly.
Why were things so urgent? Wright-Conklin was tiring fast.
"I got mad, and then I just totally tossed him," Wright-Conklin said, accurately depicting his takedown of Olathe Northwest's Abe Wiltfong in the second period. "I didn't want to be out there anymore."
Wright-Conklin's pin of Wiltfong in the 171-pound class was one of six for LHS, which easily won its dual against the Ravens, 51-21, Wednesday night in the LHS West gymnasium.
Naughton said the dual helped his team focus, especially since the wrestlers had a couple of days off due to the snow. It was also an opportunity for Wright-Conklin and senior Ben Seybert to return to competition after extended absences from the mat.
But in the bigger scheme of things, the dual pales in comparison to what the Lions have coming this weekend.
The Lions, ranked sixth in Class 6A, will bus down to Newton after classes today for the Newton Tournament of Champions. Starting Friday, it's a two-day meet set up just like the state tournament featuring eight of the top 10 teams in 6A, as well as one of the top teams from Oklahoma.
So Naughton thought getting his wrestlers some real time on the mat before diving into this weekend was vital. Seybert returned after dealing with a pinched nerve in his shoulder for a few weeks. It took him three periods to defeat Cody Bacon by tech fall.
"He came off after and I asked him how he was feeling," Naughton said. "He was like, 'I gotta catch my breath first.'"
Though Wright-Conklin and Seybert aren't in ideal match shape right now, Naughton said they will be ready for the tough competition this weekend's meet presents.
Naughton is also glad he gets to take his younger wrestlers to Newton in order to acclimate them to a state-tournament-like atmosphere. The Lions will stay in a hotel and compete in a large arena, just like they would at state.
"That shock-and-awe factor — they can absorb it and focus on the things they can control. It helps them better prepare for the matches ahead," Naughton said.
Freshman Austin Magdaleno, Ryan Bellinger and Ryan Walter lost competitive matches Wednesday, but Wright-Conklin wasn't worried about their abilities.
"That's just not being on the mat in varsity enough," Wright-Conklin said. "Once they do better, it'll be like 51-3 up (on the scoreboard)."
Wright-Conklin was already focusing on this weekend. He said the only main tournament he hasn't won in his high school career is the Newton Tournament of Champions, so he's craving a title.
"I got second there twice," he said. "I'm ready to get back at it."
And as for his competition, specifically a wrestler from Oklahoma who is ranked higher nationally than Wright-Conklin ?
"I'm ready to wrestle him and prove my spot," Wright-Conklin said.
Copyright 2018 The Lawrence Journal-World. All rights reserved. This material may not be published, broadcast, rewritten or redistributed. We strive to uphold our values for every story published.