Lawrence high boys basketball
• Schedule
Photo Gallery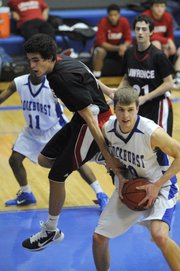 Lawrence High boys vs. Rockhurst
Kansas City, Mo. — Kansas City, Mo. — When junior KJ Pritchard tried to articulate exactly how Lawrence High lost on Saturday and why the Lions are struggling, he kept coming back to the same conclusion.
The team needs to shoot the ball better, especially from three-point range.
The Lions hit just four of 21 three-point attempts on Saturday, falling 67-48 at Rockhurst (Mo.) High.
Pritchard did concede that his team played harder than it did on Friday against Olathe North, after which coach Mike Lewis called his team's effort "embarrassing for our program."
The increased effort just wasn't enough.
"I don't know what it is," Pritchard said. "We just have to make a shot."
It's a basic foundation of basketball — the team that shoots better usually wins. The Hawklets (8-3) shot 56.1 percent and the Lions (2-5) shot 34 percent.
What's frustrating for the Lions is that their offense is generating open, albeit contested, looks. The shots just aren't falling.
"We have to make contested shots," Lewis said. "It's easy to play H.O.R.S.E and sit around and jack it around, but when you're out there on the line and there's good defense on you, you need to score. That's the difference."
Like on Friday, Lawrence High kept the score close early in the game. After a 6-0 LHS run early in the second quarter, Rockhurst coach Mark Nusbaum called a full timeout. His team was ahead just 17-16.
And like on Friday, a debilitating run essentially finished the game. The Hawklets scored 15 of the next 17 points and headed into the locker room with a cushy 32-18 lead.
"When they do go on those long runs, we can't hang our heads," Pritchard said. "We've just got to keep 'D'-ing up."
Then he sighed.
"And you know, make shots," Pritchard said.
For the weekend, the Lions hit just six of 41 three-pointers, good for 14.6 percent. Lewis knows his offense starts from the perimeter, so a poor outside shooting performance kills his team's ability to score.
That being said, Lewis likes his team and its potential to get better.
"They're coachable. They're starting to learn how to support each other," Lewis said.
Lewis isn't afraid to mix up his lineup, either. Pritchard and juniors Anthony Buffalomeat and Logan Henrichs will be on the floor a lot, but outside of that, it's essentially a trial-by-fire process.
"I'm not sure what this team might look like in a couple weeks," Lewis said.
The Lions head on the road for the first time in Sunflower League play on Tuesday, traveling to Shawnee Mission North for a 7 p.m. tipoff.
Box score
LAWRENCE (48)
KJ Pritchard 6-14 0-0 13, Anthony Buffalomeat 6-13 2-3 15, Logan Henrichs 1-8 3-6 6, Jake Johnson 0-3 0-0 0, Garrett Wagner 0-2 0-0 0, Shane Willoughby 2-8 2-2 7, Derby Miller 2-2 0-0 4, Ross Johnson 0-1 1-2 1, Brad Strauss 1-2 0-2 2, Jake Mosiman 0-2 0-0 0. Totals 18-53 8-15 48.
ROCKHURST (67)
Chris Bohannon 2-6 10-12 15, Matt Lampo 3-5 0-0 8, Clarence Kirkwood 2-4 2-3 6, Frank Arbanas 3-5 0-1 6, Austin Hannifan 2-2 0-0 4, Kyle Wolf 7-8 0-0 14, Jordan Davis 1-4 2-2 4, Nick Deatherage 0-1 0-2 0, Jordan Miller 0-1 0-0 0, Andrew Kramer 2-2 0-0 5, Bradley Wilkins 0-1 1-2 1, Brian Fosselman 1-1 0-0 2, Jason Huska 0-2 0-0 0, Mike Jones 0-0 2-2 2. Totals 23-41 17-24 67.
Lawrence 10 8 13 17 — 48
Rockhurst 15 17 17 18 — 67
Three-point goals: Lawrence 4-21 (Pritchard, Henrichs, Buffalomeat, Willoughby); Rockhurst 4-11 (Lampo 2, Bohannon, Kramer). Shooting: Lawrence 18-53 (34 percent); Rockhurst 23-41 (56.1 percent). Turnovers: Lawrence 8, Rockhurst 12.
Copyright 2018 The Lawrence Journal-World. All rights reserved. This material may not be published, broadcast, rewritten or redistributed. We strive to uphold our values for every story published.