Photo Gallery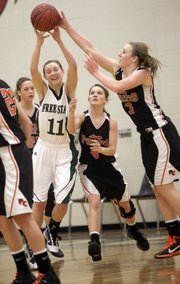 Free State girls vs. Platte County
Free State High's girls basketball team has played Platte County (Mo.) for four straight years now, so it's fair to call it a rivalry.
On Tuesday, the Firebirds took their fourth straight loss against the Pirates, falling 53-46 at home. It was certainly a game typical of a rivalry — high-paced and physical throughout.
Free State coach Bryan Duncan was happy with his team's effort against a Platte County team that started five seniors with three years of varsity experience. He said his team lost its cool in the environment.
"We just learned that we just have to keep our emotions a little better in check throughout the course of the game," Duncan said. "And that's hard to do in a game like that."
The Firebirds (3-2) also struggled to open up either half playing well. After the first three minutes, they found themselves down, 8-0.
The Firebirds fought back to tie the game, 27-27 at halftime, but turned the ball over eight times in the first four minutes of the second half and fell behind by seven.
"They kind of took it to us in the first two or three minutes of both halves," Duncan said. "That really set the tone. It's hard playing from behind."
Free State's starters — juniors Jackie Garcia and Lynn Robinson and sophomores Abbey Casady, Chelsea Casady and Kennedy Kirkpatrick — have much less experience than Platte County's starters. Duncan refused to use that excuse, however.
"I know people will say we're young. But we feel like that's a game that we can win and should have won, but didn't," Duncan said.
Platte County senior Taylor Johnson, who will play at the next level at Creighton, was a force, scoring 24 points and grabbing 12 rebounds. Senior Kelsey Knox was her partner-in-crime, adding 16 points and eight rebounds.
Kirkpatrick was Free State's most effective offensive threat, scoring 13 points. Late in the game, she faced double teams and struggled to get open looks.
She said Free State scouted Platte County, which plays in Class 4 in Missouri, and knew about their better players, but the Firebirds' lack of composure in a physical game hurt their chances.
"I think the referees got in our head a little bit," Kirkpatrick said.
The Firebirds haven't beaten the Pirates yet, but Duncan was happy his team matched up with a quality opponent prior to Sunflower League play.
"They've been good, we've been good and we wanted to keep that rivalry going. It's good for both teams," Duncan said.
Free State plays against Olathe East at 6 p.m. on Friday at home.
Box Score
Platte County (Mo.) 53, Free State 46
PLATTE COUNTY (53)
Taylor Johnson 11-19 2-5 24, Kelsey Knox 7-15 1-3 16, Alisha Hoskins 1-7 0-0 2, Brelann Lawler 0-4 1-2 1, Cacy Williams 1-8 2-3 4, Jordan Trimble 2-3 0-0 4, Kirsten Clemens 1-1 0-0 2, Gabby Robinson 0-1 0-0 0, Sydney Smith 0-0 0-0 0. Totals 23-58 6-13 53.
FREE STATE (46)
Abbey Casady 1-2 0-0 2, Jackie Garcia 3-7 0-0 6, Kennedy Kirkpatrick 4-14 2-4 13, Lynn Robinson 4-8 0-0 9, Chelsea Casidy 3-9 1-2 10, Alexa Gaumer 0-5 2-2 2, Courtney Hoag 1-2 0-0 2, A'Liyah Rogers 1-1 0-1 2. Totals 17-48 5-9 46.
Platte County 15 12 17 9 — 53
Free State 16 11 8 11 — 46
Three-point goals: Platte County 1-9 (Knox), Free State 7-19 (Kirkpatrick 3, C. Casady 3, Robinson) Shooting: Platte County 23-58 (39.7 percent); Free State 17-48 (35.4 percent). Turnovers: Platte County 17, Free State 18.
Copyright 2018 The Lawrence Journal-World. All rights reserved. This material may not be published, broadcast, rewritten or redistributed. We strive to uphold our values for every story published.