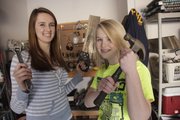 It may have taken a while, but Hannah Whipple and Melinda Landgraf finally raised the roof.
The two Free State High School juniors spent the past six months crafting and constructing a playhouse for Douglas County CASA. The project was part of the girls' community service requirement for the Girl Scouts, of which both are long-time members.
While working with the humane society or the homeless shelter are common choices for community service, Landgraf and Whipple wanted to do something unique.
So in June they began working out the details for the playhouse. Whipple handled the design and construction while Landgraf took care of the publicity. They both worked with their fathers to build the playhouse. The process turned out to be more time-consuming than either girl had imagined, and their self-imposed summer deadline quickly passed.
"We didn't know much about building in the beginning at all," Landgraf said.
Through several run-ins with trial and error, they learned. During the next several months they balanced school work, social lives and building responsibilities. Whipple and Landgraf measured, cut and constructed the playhouse that now sits in a local foster home's yard.
Diana Frederick, director of Douglas County CASA, said the project was great to watch develop.
"They've gone about this process very thoughtfully and meticulously," Frederick said. "It was a wonderful experience to work with these two ladies."
And the experience will net the scouts a top honor in their troop, the Gold Award. Having completed 65 hours of community service, the two will be pinned in a ceremony in 2012.
Landgraf said the project was a way to give back to Lawrence. "I like helping the community," she said.
Whipple and Landgraf completed the pieces the first weekend in December and it took an afternoon to assemble the playhouse at the foster home. The recipients were happy and grateful.
"These Girl Scouts are making dreams come true," Frederick said.
With the project behind them and nothing scout-related on the near horizon, Landgraf and Whipple will have a chance to relax and focus on school and socializing. The two friends said they've learned many things through the process, but one helpful tip stood out among the rest.
"I would say measure twice," Whipple said. "Always."
Copyright 2018 The Lawrence Journal-World. All rights reserved. This material may not be published, broadcast, rewritten or redistributed. We strive to uphold our values for every story published.