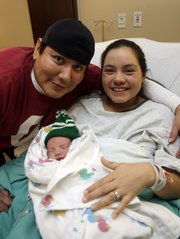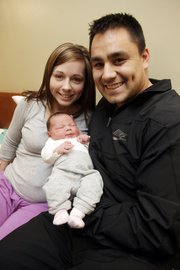 George Allen Kodaseet Jr. came into the world six days early, just in time to watch Oklahoma University play Connecticut in the Fiesta Bowl Saturday.
At least, that's his father's theory.
George Jr. was born at 8:01 a.m. Saturday, weighing in at 7 pounds, 11 ounces with a length of 19 1/2 inches. That early morning arrival earned him the honor of being the first baby born at Lawrence Memorial Hospital in 2011. With a date of Jan. 7 set for a cesarean section, the parents had an early holiday surprise with the New Year's Day baby.
"It was exciting because he was born on the first of the year," said Vera Kodaseet, George Jr.'s mother.
George Jr. was born to Vera and George Kodaseet, both 31-year-old Lawrence residents. He has two older brothers, Robert, 10, and Adrien, 8, but both come from previous marriages for the couple.
"We kind of did 'The Brady Bunch' thing," Vera said.
A chance meeting on MySpace brought together the family, but the couple's history started long before that. Vera and George were high school sweethearts in Anadarko, Okla. They lost touch in 1997, though Vera kept an old letter and photos from the relationship. Vera moved several times because her father was in the military, oftentimes close to where George lived.
"We always missed each other," Vera said.
Two years ago she moved into a house in Lawrence, and the same day George moved out of a house across the street. He later looked her up on MySpace, and they reconnected, marrying in July 2010.
Now they have a combined family, and Vera is outnumbered by males.
"We were kind of rooting for a girl, but a boy is fine as well," she said.
George Jr. is entering a family where his mother is a teacher and his father is set to start a new job at the Kmart distribution center this month.
"It's been a rough year with cutbacks everywhere," Vera said. "But that was like a blessing."
Vera has her undergraduate degree from Haskell and is working on her master's in special education at Kansas University now, and hopes her new son goes to school, maybe even KU.
"I'll be happy with whatever he chooses," she said.
George has an additional wish for his son: Become a football player at Oklahoma University. The family is split between KU fans, Vera and her son, Robert, and Oklahoma University fans, George and his son, Adrien. George is convinced George Jr. will be an Oklahoma fan and hopes he someday joins the team. He's already bought a jersey for the new baby.
"He couldn't wait till next weekend," George said. "He had to get here today for the game."
Copyright 2018 The Lawrence Journal-World. All rights reserved. This material may not be published, broadcast, rewritten or redistributed. We strive to uphold our values for every story published.