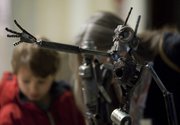 Some Lawrence residents braved the low temperatures and wind to ring in the new year in an artsy way.
The final Final Fridays event of 2010 was held on New Year's Eve, and for some it was a fun holiday outing.
Ben Ahlvers, exhibition program director at the Lawrence Arts Center, usually works the Final Fridays event at his gallery and is on the board of the monthly event. But the arts center has been closed for a week, and Ahlvers got to bring his two sons to the showing at Hobbs Taylor Lofts and enjoy the art himself.
"I think it's important to do," he said. "I think there's plenty of good art being made."
The art show was his one stop on New Year's Eve, and his 5-year-old son, Elliot, enjoyed the show from atop his father's shoulders, pointing out a piece of art with a large circle as his favorite.
"We do the art scene all the time," Ahlvers said.
Dan Dishman, of Lenexa, decided at the last minute to display his art at the December event after he realized he was coming to the show anyway. He's participating in January's event as well, and thinks Final Fridays is going well because it's easier to connect with people in a smaller city like Lawrence.
"Kansas City has their event, but I think this can be just as good, if not better, at times," Dishman said.
Copyright 2018 The Lawrence Journal-World. All rights reserved. This material may not be published, broadcast, rewritten or redistributed. We strive to uphold our values for every story published.