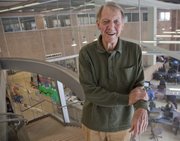 Bill Roth and his wife bought a motorhome and traveled the country for a year, searching — from California to Key West, Fla. — for a place with a comfortable lifestyle, educated populace and, perhaps most importantly, solid schools for their two young children.
Six years after they settled on a 20-acre homesite near Lone Star, the 77-year-old retired engineer is looking to help make the Lawrence school district even better.
"Lawrence should have the best schools in the state," Roth said. "I have that as a vision for what I'd like to see: I want other people coming to Lawrence to see how we do so well."
Roth is one of nine candidates campaigning for four available seats on the Lawrence school board. The general election is April 5, with winners scheduled to start their four-year terms in July.
Roth's vision calls for an emphasis on science education and environmental awareness, while tapping into volunteer advice from Kansas University faculty and steering future projects, goals and directions into a single, cohesive path.
"I'd develop a long-range plan with a vision, measurable goals and a timeline," he said. "It's for the entire district: What's our vision for our schools, and what are the goals that fit into that vision?"
Roth's views have been built through a career that has valued expertise, discipline, research-driven outcomes and patience.
As an officer in the U.S. Air Force for 24 years, Roth spent time flying combat missions in southeast Asia, designing components for the F-15 fighter and overseeing operations and infrastructure issues at a military base in Panama. He went on to work for 10 years at Lockheed Martin, working on "launch vehicles" — aka rockets — that included programs associated with the Space Shuttle program.
Then he retired and launched his own business: Saber Air, providing flight training and air charter service while he and his wife, Peggy, farmed — 465 acres with 80 cows, three bulls and plenty of sheep, goats and chickens — in Breckenridge and Gallatin, Mo.
Roth figures he's taught 200 people how to fly single-engine planes, how to make instrument landings and how to otherwise manage in multiengine aircraft.
"I've got to be able to sit in the airplane and tell you what to do and explain it to you, and if you can't do it right I have to show it to you," he said. "It takes a lot of patience."
Roth is a graduate of the U.S. Military Academy at West Point, N.Y., and received a master's degree in business administration from the University of Southern California. His father was in the Air Force, meaning he moved around a bit as a kid, attending public and private schools in Ohio, Los Angeles and the Washington, D.C., metro area.
"It makes you very open-minded and accepting and flexible," Roth said. "You hope you're flexible in your thinking."
He's a member of the Science, Technology, Engineering and Math Committee at Wakarusa Valley School, where his son, Omar, is in fourth grade. A daughter, Mya, is in seventh grade at South Junior High School. He has four other children and a grandchild from a previous marriage.
At Wakarusa Valley, Roth helped lead a project to donate a system that uses the sun's rays to boost the temperature of water for the kitchen. The system's benefits are twofold, he said: both saving the district money on its utilities and, more importantly, providing an example for students to learn about the importance of technology and environmental awareness.
By the time Wakarusa Valley's students leave school, he said, half of the country's workforce will be involved in alternative energy.
"They need to be tuned in," Roth said. "It's absolutely critical that we emphasize science. Other countries are getting ahead of us in areas of scientific innovation. You've got to have people going into that area, and who are interested in it. And you can't make kids aware of that until you tell them and start demonstrating it."
Copyright 2018 The Lawrence Journal-World. All rights reserved. This material may not be published, broadcast, rewritten or redistributed. We strive to uphold our values for every story published.