Photo Gallery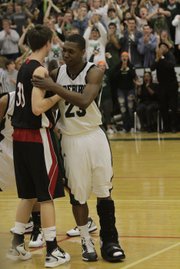 Lawrence High boys vs. Free State
For the first and only time Friday night, silence fell over the capacity crowd packed into the gym at Free State High.
With mere seconds remaining on the clock, Lawrence High junior KJ Pritchard hung in the air, faded away from two Firebird defenders and hoisted a high-arcing three-pointer in front of the Lions' bench.
"We were all definitely scared, holding our breath," FSHS senior Evan Manning said.
Pritchard's would-be game winner fell just short, bouncing softly on the front rim and into a Firebird defender's hands as time expired.
"It looked good. It was right on," said Pritchard, who poured in 27 points to lead LHS. "You can't ask for much more than that."
The temporarily noiseless vacuum again filled with hooting, hollering and celebrating, as the Firebirds escaped with a 58-57 victory in a game that lived up to every bit of its billing.
What was a thrilling finish for the Firebirds (12-8) and their fans on senior night — honoring Alec Heline, Austin Hoag, Manning and Eric Watson — was another bitter one for the Lions, who fell, 61-60, in the final seconds earlier this year in the Jungle.
"You hear from everybody how great the game was last time, and how great the game was tonight," LHS coach Mike Lewis said. "You just want it to be a great game in your favor."
Last time out, Georgi Funtarov's hook shot with just over six seconds remaining proved to be the difference for FSHS.
On Friday, Funtarov outdid his previous City Showdown performance.
The 6-foot-6 junior carried the Firebird offense at times, often going basket-for-basket with Pritchard, finishing with 30 points and 12 rebounds.
"I felt a lot better than last time," Funtarov said.
Funtarov's scored 10 points in the fourth quarter, when FSHS inched ahead after a mid-range jumper from Brett Frantz (10 points) and a crucial offensive rebound from Heline (four points, six assists).
But with FSHS clinging to its 58-57 lead and just over 30 seconds to play, Funtarov misfired on a questionable three-pointer from the top of the arc, and Anthony Buffalomeat (eight points, nine rebounds) pulled down the miss.
After an LHS timeout and near steals by Funtarov and Manning, Pritchard caught an inbound pass with 2.6 seconds remaining, took a few dribbles to the far right corner, wheeled himself into position and rose for a jumper.
Just like the last meeting — when a layup attempt at the buzzer by Logan Henrichs (who scored 12 points on Friday) sat on the rim before falling off — a potential game winner wouldn't go down for the Lions (7-13).
"It especially hurts because they both came down to the last shot for us," a dejected Pritchard said. "And they both just rimmed out."
The game opened with a truly feel-good moment, as injured senior Eric Watson — who partially tore his Achilles on Tuesday — was introduced to loud cheers as a starter and hopped out onto the floor wearing a walking boot.
LHS senior Jake Johnson (eight points) allowed the standing Watson to win the opening tip, and Manning dribbled the ball out of bounds, allowing Watson to shake hands with every player and check out of the game to a rousing chorus of "Er-ic Wat-son" from the crowd.
"It was one of the coolest things I've ever seen," said Manning, who tallied 10 points, five steals and three assists.
"Eric deserves that, definitely. For what he's been through, for what he's done for the team."
The rivalry was also lightened a bit by the collective effort to raise money for Coaches vs. Cancer.
The Lions wore pink T-shirts with "Real Lions Wear Pink," and "Paws for a Cause," and the Firebirds' T-shirts sported the motto "Cheer Green. Think Pink." Players from both teams and cheer squads wandered the crowd accepting donations at halftime.
The game was intense, and the crowd was rocking from the start, when, paced by smooth outside jumpers and slashing drives to the basket by Pritchard, who scored 18 first-half points, Lawrence took a 32-28 lead to the intermission.
"We hurt ourselves in the first half taking silly gambles (on defense)," Law said.
The Lions led by as many as seven points after halftime, but FSHS went on an 8-0 run in the third quarter and never trailed after the six-minute mark in the fourth.
"We did everything we could do but win," Lewis added. "Same story as last time."
Box score
Free State 58, LHS 57
LAWRENCE HIGH (57)
KJ Pritchard 9-18 6-8 27, Shane Willoughby 1-3 0-0 2, Anthony Buffalomeat 3-9 2-2 8, Logan Henrichs 3-4 4-6 12, Jake Johnson 3-3 2-2 8, Garrett Wagner 0-2 0-0 0, Brad Strauss 0-2 0-0 0, Trent Edwards 0-1 0-1 0. Totals: 19-42 14-19 57
FREE STATE (58)
Shawn Knighton 1-2 0-0 2, Austin Hoag 1-2 0-0 2, Eric Watson 0-0 0-0 0, Alec Heline 2-6 0-0 4, Evan Manning 3-5 2-2 10, Georgi Funtarov 11-20 8-12 30, Brett Frantz 4-11 0-0 10, Tyler Self 0-2 0-0 0, Cameron Dabney 0-0 0-2 0. Totals: 22-48 10-16 58
LHS 13 19 13 12 — 57
FSHS 10 18 18 12 — 58
Three-point goals: Lawrence 5-17 (Pritchard 3, Henrichs 2); Free State 4-13 (Manning 2, Frantz 2). Fouled out: None. Shooting: Lawrence 19-42 (45-percent); Free State 22-48 (46-percent). Turnovers: Lawrence 15, Free State 6.
Copyright 2018 The Lawrence Journal-World. All rights reserved. This material may not be published, broadcast, rewritten or redistributed. We strive to uphold our values for every story published.